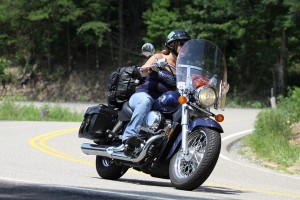 Ohio Motorcycle Lawyer; There's nothing like enjoying the freedom of the open road.
I am thrilled to see more and more women enjoying motorcycles and appreciate Sharon sharing her love for riding.
Name: Sharon Gudde
Location: Dayton, Ohio
Occupation: Multimedia Specialist (Elementary school librarian/ computer tech)
Currently rides: VTX 1300S
When did you start riding? 6 years ago.
What got you involved in motorcycles and how did you start? My husband took safety class and got a bike. 1st year took a 1000 mile road trip to Shenandoah National Park, Skyline Drive.

How has riding motorcycles impacted your life? It is all we do all summer…. I met my husband because he had a bike (750 nighthawk) (he even let me ride it, I had a moped then) my husband rebuilt a 58 Panhead before kids. Then we sold it to buy a house. When they got older he bought an 1100 Honda. Soon after I got my endorsement and a bike (750 shadow). I have been fortunate to have a wonderful hubby to let me go on girl trips. I love to travel. After several trips to Europe with my mom to Holland, Ireland and with a girlfriend to Italy and Costa Rica. I have rode Skyline drive and then Blue Ridge Parkway and Route 66 with other lady riders. My husband decided he was missing out so we went to Glacier, Seattle and Arches this year. 2 summers ago we went to Tenn. and road the Dragon with another couple. Last summer we went to the Charleston WA area several times to ride in the mountains. We would rather ride than mow the lawn or clean the house, then comes hunting season….lol. If there is no salt on the road like on Christmas day last year we leather up and ride….because we can… ;}.
What has been your biggest challenge with riding? Riding on gravel uphill….and of course rain.


What do you like most about your model motorcycle? Dependable, comfort, can handle distance.
What modifications have you made? Highway pegs, 5 inch pull back risers, speakers, throttle lock.
When you're not riding motorcycles what are you other interest? Healthy cooking, sewing, crocheting, painting, jewelry making and reading.
What advice do you have for other women riders? Take the motorcycle safety course to see if it is for you, and buy an inexpensive bike to start on.
How tall are you? 5'4″ and my seat height is around 27".
What is your weather like year round? 4 seasons
How is riding therapy for you? Much needed….. 🙂 It gives us a chance to get away from everything. Listen to good music (just got speakers last year) and see some beautiful scenery. Or when I have a hard day at work to just calm down and ride. It is a great way to think things through. Riding cross country helps to appreciate what a wonderful country we live in and how many awesome people are out there and to hear the many stories of other riders.
I agree with Sharon's appreciation of getting to see so much more when you're out on two wheels and how lucky we are!
Ride ON!
Brenda Fox
Russ Brown Motorcycle Attorneys® love to see women taking to the road. Ride Safe and if you need us we are just a phone call away. 1-800-424-5377 From Ohio to New York, California to Florida, Texas to Pennsylvania – we are here for you!
"If you have been involved in a motorcycle accident, don't let it steal your freedom! Call 1-800-4-BIKERS to learn how an experienced motorcycle accident lawyer can get your bike fixed, money for your medical bills, and compensation for your pain and suffering."