Your Ohio Motorcycle Accident Lawyers
Russ Brown Motorcycle Attorneys® have been fighting for motorcyclists' rights for decades. We are experts in motorcycle accidents and have carefully chosen local, independent counsel across the country to help guide your claim with free legal advice, even if you do not need an attorney. This can maximize your recovery. If you want justice and compensation for your injury, pain and suffering, call today for your free consultation.
Your Ohio Motorcycle Accident Lawyers
If you were involved in a motorcycle accident in the state of Ohio, it is especially important to get experienced legal advice before you proceed. Our skilled lawyers at Russ Brown Motorcycle Attorneys® know motorcycle accident law inside and out, and are experienced riders to boot. The state of Ohio follows a Tort System. This means when you are a party in a biker accident, the person found at fault is responsible for all damages. A personal injury attorney who is an expert at understanding the dynamics of motorcycle crashes and Ohio motorcycle vehicle codes will be better able to help you with your case. Because our motorcycle accident attorneys ride, they know that even if your speed is lawful, sometimes you cannot just slam on your brakes to avoid an accident. You may have been forced to lay down your bike or take some other evasive action resulting in damage or injury. Yet if a faulty police report or witness statement paints your movements incorrectly, you will need a seasoned motorcycle injury lawyer to turn things around.  We are in the trenches and fight aggressively for everything you are due.  Don't assume…don't guess your best course of action.  Call us at 1-800-4-BIKERS to speak to one of our highly qualified Ohio personal injury attorneys FREE of charge.  We have been a trusted resource for riders since 1975 and will do whatever we can to help you.
Understanding Ohio insurance coverage can be very confusing and the wording can seem like doublespeak. Insurance coverage on your own insurance policy may not be sufficient. Go over this in detail with your insurance agent before you need help. So many of our clients think they have "full coverage", but don't. If your motorcycle has a lot of custom chrome, standard coverage may not be enough to reimburse you for damage done in an accident. If you are in the hospital from your accident through no fault of your own, you would have medical coverage only up to the limits of liability stated on the insurance policy of the other party, which you do not control.
Do you have Uninsured/Underinsured Motorist coverage? Does it match your underlying limits of liability? Be sure to have sufficient limits of liability and other coverage necessary to recover from a serious accident if the other party has only minimal or no insurance. If you have been in a motorcycle accident, then get the best expert advice available. Talk to a motorcycle accident attorney from the BAM organization who can ensure you get the help you need to recover from your injuries, physically and financially.
Although Ohio traffic safety authorities have made some progress in recent years, much work remains to be done in order to reduce both injuries and deaths from serious motorcycle accidents. In addition, families touched by motorcycle accidents need assistance to heal and move forward.
If you or a loved one has been injured in a motorcycle accident, an experienced attorney can help your family by working to win compensation for expenses such as medical care and therapy, long-term rehabilitation, as well as lost wages and other expenses that result from a motorcycle crash. Call the qualified accident lawyers at Russ Brown Motorcycle Attorneys® today for your free consultation. Don't settle for less compensation than your case is worth.
Ohio offers many interesting day trips for in-state motorcyclists, and is also a crossroads for visiting bikers from all points – the Midwest, South, and East Coast. Riders in the Buckeye state are compulsively hardy and ride through all four seasons, yet not without additional challenges and dangers during the coldest months. In recent years, Ohio tax payers have become increasingly sensitive to the issue of motorcycle safety, partly because of the burden from costly medical care for riders injured in serious accidents. For everyone's benefit, bikers here are expected to understand and heed Ohio motorcycle safety laws.  Russ Brown Motorcycle Attorneys®' BAM program (Breakdown Assistance for Motorcyclists) also focuses on keeping riders safe.  Wherever you ride, in the event of a roadside emergency, help from a fellow rider is only a phone call away.  2,000,000 members have volunteered to assist each other by joining BAM and some of the best and brightest motorcycle lawyers in each state were handpicked to provide expert FREE legal advice. If you have been injured in a motorcycle accident, don't settle for just any attorney.  We Ride – We Care – We WIN!  1-800-4BIKERS
OHIO MOTORCYCLE SAFETY LAWS
Helmets are required for novice (new) riders,and are also required for riders under the age of 18 years; still, helmets are universally recommended and are used by smart motorcyclists of all ages; there are no restrictions on helmet speakers
Eye protectionis required unless the motorcycle has a windscreen
Headlight must be used during the day; a modulating design is allowed
Passengers are not restricted by age, yet the motorcycle must feature both a passenger seat and passenger footrest if passengers are carried
Handlebar height cannot be higher than 15 inches above the motorcycle seat
Right and left mirrors are required,and turn signals are required if the bike was manufactured in or after 1968; a muffler is required to comply with the statewide maximum sound level of 86 decibels and other local regulations as adopted by counties and townships
Rider education is state-funded and available for all eligible applicants, and is required for riders under 18 years of age
Earplugs are prohibited
Lane-splitting is not allowed however, the practice of riding two motorcycles abreast is allowed
State liability insurance is required, and minimum coverage limits are set at 12.5/25/7.5
Random, periodic safety inspections are provided to enforce compliance with all Ohio motorcycle safety laws
Turn signals are required if the motorcycle is manufactured in or after 1968
*ALWAYS CHECK YOUR LOCAL DMV PAGE FOR THE MOST UP TO DATE MOTORCYCLE SAFETY LAWS*
Looking for the best Ohio Motorcycle
Attorneys near you?



Avon
1001 Jaycox Road
Avon, OH 44011
We Ride – We Care – We Win!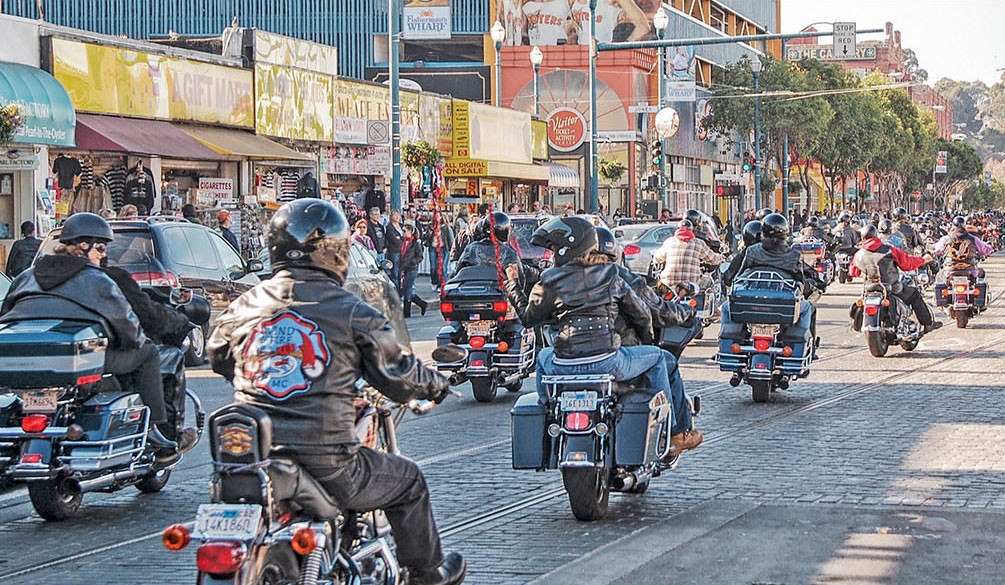 Event Description in California, all riders must wear a D.O.T. certified helmet. The state also requires motorcyclists to have EPA-compliant exhaust systems on their model year 2011 and newer motorcycles.
California motorcycle applicants under 21 years of age are required to complete a Basic Rider Cource before they receive a motorcycle instruction permit. Motorcycle applicants 21 years of age and older are encouraged.