I'm obsessed with motorcycle protection. If you don't already know why, and are interested in what turned me on to the world of PPE (personal protective equipment), you can read about my motorcycle accident here.
While working for Icon Motosports in 2014, I was introduced to D3O armor. Part of my training was to learn how to pronounce it… dee-three-oh! The other part of my training was to learn how this "mysterious" technology worked, and why Icon had chosen to use D3O throughout its entire line of protective apparel. Needless to say, I was so impressed with this brand of armor that I have worn nothing but D3O ever since.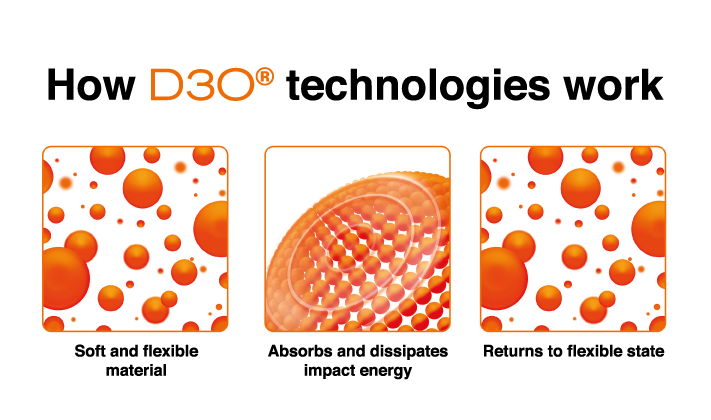 To this day, I am still an avid user of D3O. I want the whole world of riders to know the amazing combination of comfort and protection D3O armor offers. Most importantly, I hope riders will consider adding armor to their clothing in case of a motorcycle crash.  D3O is used in jackets, pants, gloves, boots, chest protectors, vests, and more. So, the options are endless when it comes to customizing a protection kit that works for you. To get the full inside scoop, I interviewed Richard Harfoot, Head of Motorsports at D3O.
First of all, what does D3O stand for?
D3O: D3O stands for the ultimate impact protection for motorcyclists. The actual D3O name came from the secret lab in which our first material was created – and it stuck!
We know D3O isn't closed-cell foam like typical armor. So, what is D3O?
D3O: The magic behind it is that D3O materials are based on non-Newtonian principles. This means that they are soft and flexible in their resting state, but stiffen under an impact to disperse the energy of the force across the surface area of the product.
D3O has a range of patented and proprietary materials, with each formulation finely tuned to behave optimally for its end use – allowing for the most advanced protection in the world.
In summary, D3O is the best protection you can get as a rider.
What are the advantages of D3O over traditional foam armor?
D3O: We make the most advanced impact protection in the world, thanks to a combination of truly inimitable material science and product design. In practice, this means that we make armor that is not only soft, flexible and uniquely protective, it's also designed to perform at its best while meeting other key motorcyclist needs such as breathability (cue the LP2 Pro, which has a unique geometry offering 45% more breathability while offering CE Level 2 impact performance) and flexibility (e.g. D3O​​® Ghost™, true fit-and-forget armor by design).
How was D3O invented or discovered?
D3O: Our founder Richard Palmer was an extreme sports enthusiast. He got fed up with having to wear Robocop-type armor to stay protected while doing what he loved, and so he dedicated himself to changing the world of impact protection.
He pioneered soft armor with the first D3O® material. This was the first to be soft and flexible, providing unbeatable comfort and freedom of movement, alongside unbeatable impact protection.
We gave early prototypes of D3O® armor to the United States Ski Team and the Canada ski team at the 2006 Olympic Winter Games. It was a hit, and the birth of a hugely successful business.
D3O now encompasses a suite of materials and products used to protect people and their things.
How can D3O help protect a rider during a motorcycle crash?
D3O: D3O® armor is super comfortable to wear, being soft and flexible in its resting state. On impact however, it'll stiffen to disperse the energy of the force across the surface area of the product, therefore reducing the risk of severe injuries.
Record-breaking motorcycle racers such as Michael Dunlop have been known to crash while D3O® protected, and walk away.
Q: In true biker fashion, I had to put this claim to the test. I was wearing D3O inside my suit at the shoulders, elbows, hips and knees when I crashed my motorcycle on the race track at 40 mph.  The soft and comfortable material turned out to be the best motorcycle armor I had ever experienced. I walked away with two small bruises on my elbow and I raced twice that same day!
Not all armor is made for racing. So, what do the symbols on my D3O armor mean?
D3O: D3O's motorcycle armor is CE and UKCA certified according to the relevant EN standard, depending on what part of the body it's protecting.
You can learn more about safety ratings, CE standards, and D3O's levels of protection here: https://www.d3o.com/our-products/motorcycle-protection/motorcycle-armor-ce-certification/.
How and where is D3O tested?
D3O: D3O has rapid prototyping facilities at its Lab in the UK which enable iterative innovation and production monitoring. We do physical and mechanical property analysis as well as impact performance testing.
D3O also works with independent test laboratories such as SATRA Technology, INSPEC, and British Standards Institute to verify and certify products. We're a gold member at SATRA technology.
Where is D3O manufactured?
D3O: This is part of our secret sauce! Depending on the D3O® material or product, this is typically near the majority of our partner brands' manufacturing facilities to minimize freight and reduce our environmental footprint.
What else is D3O used for?
D3O: Recognized as the world's most advanced impact protection, D3O partners with a significant portfolio of global brands across a broad range of industries:
Consumer Electronics. We're found in the world's thinnest, most protective phone cases and screen shields sold at Verizon, AT&T, Best Buy and more – so you may well have us in your pocket as we speak.
Defense, Law Enforcement, First Responders. Our helmet liner systems for example are used by the United States Armed Forces to mitigate against traumatic brain injury.
Motorcycling including Street, Racing, Adventure & Touring, Motocross and Enduro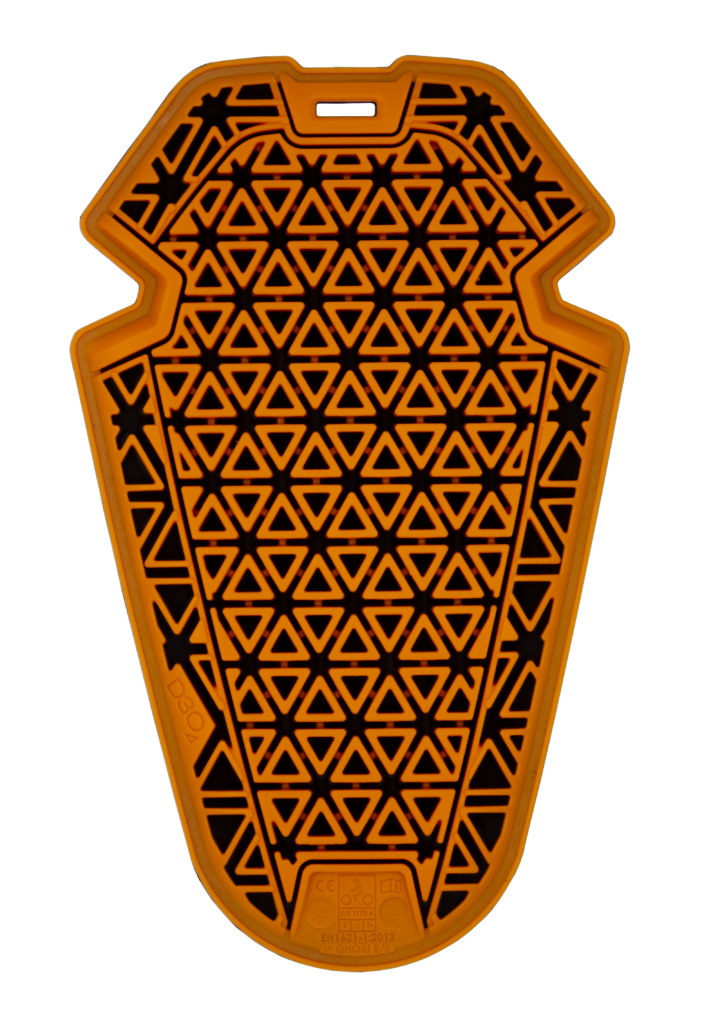 Cycling including Downhill MTB, Enduro, Trail, Slopestyle
Sports including Ice Hockey, Skiing & Snowboarding, Football, Flag Football, Formula 1, Soccer, Baseball, Lacrosse, Hockey, Skateboarding, Sailing, Equestrian, Hunting, Cricket, Boxing, MMA, Polo, Wakeboarding, Kite-Surfing, Rugby, Volleyball and Basketball. The world's top athletes – from mountain bike to NHL – use D3O in applications from head to toe.
Workwear. We provide dexterous hand protection and knee-saving pads for industrial workers allowing them to do their job well and get home intact.
You can learn more about D3O here.
"If you have been involved in a motorcycle accident, don't let it steal your freedom! Call 1-800-4-BIKERS to learn how an experienced motorcycle accident lawyer can get your bike fixed, money for your medical bills, and compensation for your pain and suffering."