The FIM World Superbike race series comes to the US only once a year, but they pick the historic hills of Laguna Seca (now WeatherTech Raceway) to make sure they do it in style. Better yet, our national superbike series, MotoAmerica, shares the weekend with them, allowing America's top guns to show off what they can do in front of (and sometimes against) international teams.
And the event is not just for die-hard race fans. Both MotoAmerica and the Motul WorldSBK organizers are actively investing in the overall fan experience, with live music, kart racing, multiple chances to meet the riders, and the ever-present vendor area and factory demo rides. Combine that with Saturday night at Monterey's Cannery Row, and you can easily find something you'll enjoy.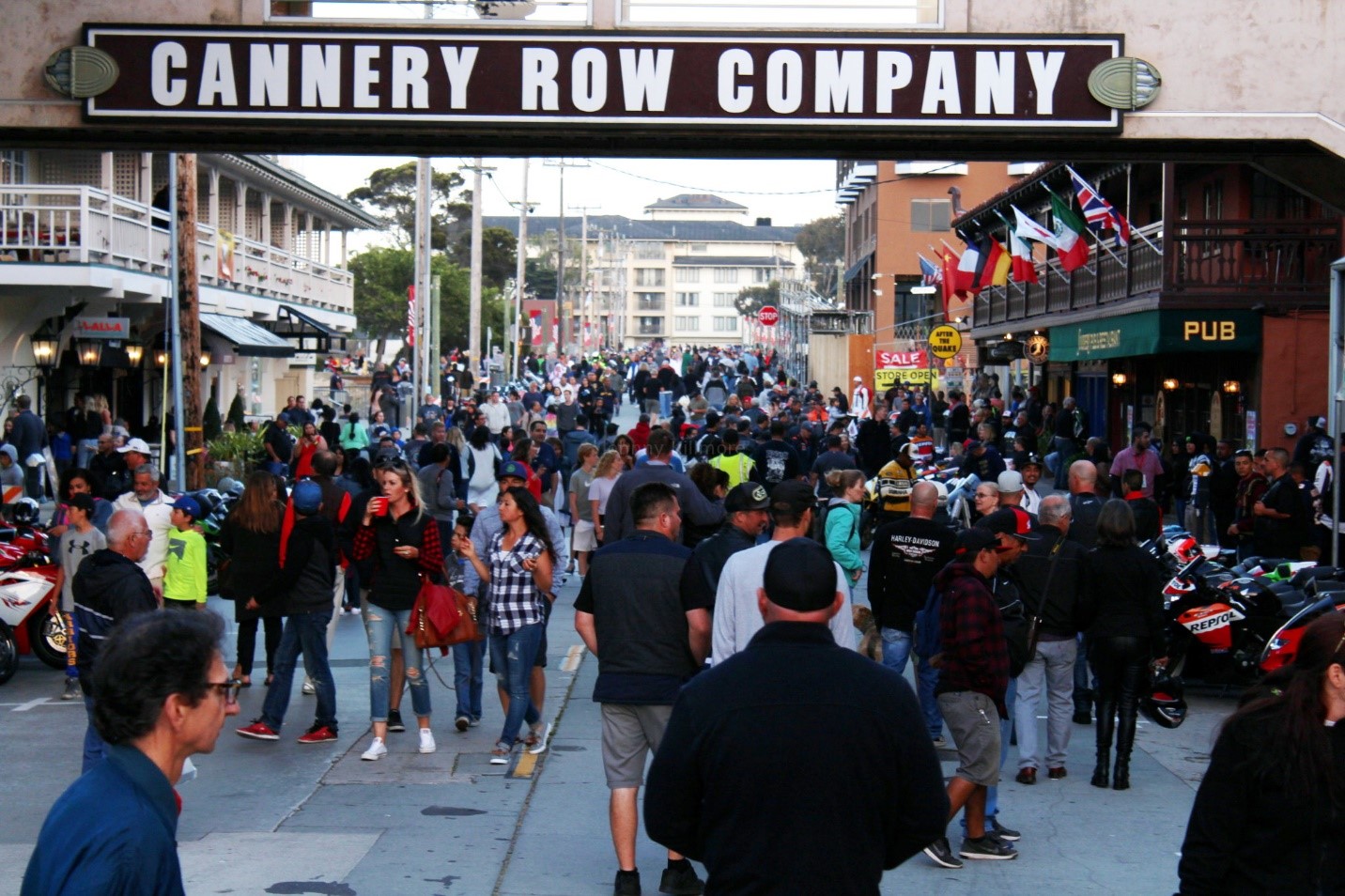 As for the on-track activities, the freight train that is Jonathan Rea proved unstoppable once again. Rea and his Kawasaki have won eight of the 16 races run so far this season on the world stage, with another five podium finishes. I was hoping WeatherTech Raceway's unique layout was going to shuffle things around, but both days ended with Rea easily on top and Ducati rider Chaz Davies in a firm second place.
WeatherTech Raceway is sometimes called a paved motocross track by the many European riders in WorldSBK, who are accustomed to the high-speed, flowing tracks they normally visit around the world. Built in a very hilly area in 1957, the bumps and elevation changes are dramatically different from other tracks on the calendar, especially turn 7, known better as the Corkscrew. The blind corner drops three stories and is often the scene of passes and crashes. And in the MotoAmerica race that turned out to be the case… and then some.
The Corkscrew is one of racing's most famous corners. Blind on the approach before dropping three stories, there are many ways to get it right and even more ways to get it wrong.
For those not familiar with Josh Herrin, he already has quite a career highlight reel for being only 28-years old. He has won a national championship while riding for the Graves Yamaha factory team, he was won the Daytona 200, and even spent the 2014 season racing grand prix bikes on the world level in the Moto2 class.
But currently the California native is running independently with support from Attack Performance, Yamaha, and others. Despite having to manage a tight budget, the team made the choice to enter both the WorldSBK race while still fighting for a win in the MotoAmerica class. This left the team having to swap tires, number plates, and make setup changes on their Yamaha YZF-R1 all weekend, and Josh having to recalibrate his brain to the different feel between WorldSBK's Pirelli control tire and Moto America's Dunlops.
On top of all this, Josh had to iron-man it, doing nearly 60-laps on Saturday alone. In fact, after running as high as 10th place in the WorldSBK race that day, he slowly began to fade back to 16th before pulling in with a few laps remaining. While the crew switched over Herrin's machine for the MotoAmerica race, Josh tried to work knots out of his back.
When the lights went out to begin the MotoAmerica race though, there was no evidence that Josh was tired. Having broken the lap record during qualifying, Josh launched from pole position and led the field into turn 1. He was under attack for much of the race, first by defending champion Toni Elias, then by Graves Yamaha rider Cameron Beaubier, who eventually took the win, leaving Herrin in a lonely second place. Not a bad day at the office.
Josh Herrin (#2) fought hard to hold off Cameron Beaubier (#6) both days.
Sunday's race was very much the same, except this time Herrin ran the entire WorldSBK race, running as high as 9th before fading to 16th by the finish. And in the MotoAmerica race he again led early on, but even at a distance you could see he was having to push much closer to the limit to stay ahead of Cameron Beaubier.
When Herrin finally lost the lead to Beaubier, he managed to stay much closer, hinting that the fight wasn't over. Then, with three laps to go, Herrin lost the rear end while descending the Corkscrew and went sliding off into the dirt. Josh remounted the bike but the corner workers prevented him from rejoining the race. The argument went on for over two laps, with Herrin trying to push past the corner workers and them refusing to let him continue.
Eventually he had to give up and the bike was cleared from the impact zone. Personally I admired the grit of a racer who was dead set on carrying the fight to the bitter end. Even with an exhausting schedule of racing and a damaged bike, Josh Herrin was not going to give up. Race Control saw it differently though and penalized him three grid positions for the next event (essentially meaning he will start one row back from wherever he qualifies).
Josh Herrin was just a fraction of a second too early on the throttle, sending him off into a cloud of dust and out of MotoAmerica Race 2
Josh refused to give up, but the corner workers were adamant his bike was too damaged to re-enter the track.
Eventually Herrin had to give up his chance to salvage a few points. Here he is seen walking away as Cameron Beaubier passes in the background on the final lap, taking the win.
It must be a bitter pill to swallow, going from record-breaking lap times to broken race bikes and losing a huge amount of ground in the championship. He will also have to wait three weeks for a shot at redemption, when MotoAmerica heads to the Utah Motorsports Campus July 20-22.
That event will also be a chance for defending champ Toni Elias to turn his season around. He crashed not once but twice in Saturday's race, then struggled on Sunday before magically turning things around in the last half and finishing 2nd. Are his struggles over? Last year he absolutely walked away with the championship, but crashes have plagued him in 2018.
Cameron Beaubier's season is really shaping up. He leads defending champ Toni Elias by 29 points.
American Jake Gange can at least leave with a smile. The WorldSBK rider got his current seat with the Red Bull Honda team here at WeatherTech Raceway last year, after rider Nicky Hayden was tragically killed in a bicycle accident in Italy. Hayden has long been a fan favorite and it has been a large set of boots for Gange to fill. But Jake scored his first top-ten in the series with a 9th place in Sunday's race. This is a solid result as the Honda Superbike has been lacking a bit in power for the last several years, as Honda does not have a full-factory team of its own. The WorldSBK series moves next to Italy for round nine, July 6-8.
American Jake Gagne had his best finish in the WorldSBK series, finishing 9th in Race 02 on the Red Bull Honda.
As far as off-the-track life, this years event seemed more alive than usual. Attendance was only slightly up from last year, with 64,425 people coming through the gate for all three days combined. But the crowd itself seemed more energetic. The cheers for riders were louder, the crowd at the race podium was larger, and the biggest sign was that people didn't clear out after the WorldSBK race. Fans for MotoAmerica's podium ceremony were nearly the same size: a sign that people are once again noticing the fierceness of competition in the domestic superbike series.
Johnny Rea led the field to victory, but also led the race to avoid champagne spray as Chaz Davies (center) is in turn sprayed by 3rd place finisher Eugene Laverty.
Morning fog and coastal weather helped keep temperatures down, but the summer sun was still shining all weekend.
I also got a chance to finally meet Russ Brown Motorcycle Attorneys®-sponsored rider Nic Swensgard. The young gun is still competing on his KTM RC390 despite it being a little short on power, now that the LiquiMoly Junior Cup is allowing other brands of machine in. Combined with a revised RC390 this year and Nic has his work cut out for him.
A crash in qualifying meant he had to start from 14th on the grid, with only about four laps of practice. The race began poorly also, with Nic being sent out on the wrong tire pressures. He still managed decent lap times but was struggling until a red flag stopped the race, setting things up for a five-lap restart. Now on the correct tire pressures, Nic managed to work his was up to 10th, then eventually slip by into 9th. By then the lead pack had pulled away and there was not enough laps left to try and run them down. Still, a top-ten result is solid. Look for Nic's race report here and our interview with him here.


And with that the world of superbike racing departs. Weathertech Raceway has several car events to round out its year, and MotoAmerica will continue to criss-cross the US through September. See their full calendar, rider profiles, and full results at www.motoamerica.com. Also look for WorldSBK news and results at www.WorldSBK.com
Californians who missed this round have another chance to see MotoAmerica action at Sonoma Raceway, August 10-12. The action has stepped up several notches in the past few years and you owe it to yourself to make it to the track at least once this season and see things firsthand.

Although racer Nicky Hayden has been gone for over a year due to a tragic cycling accident, he remains a fan favorite. Here you can see his #69 logo as well as two young fans wearing his memorial T-shirt. Flags and banners were erected by fans and WeatherTech Raceway around the course as well.
Although a superbike starts out as a showroom stock sportbike, they are slathered with go-fast parts inside and out.
Getting things wrong in the Corkscrew doesn't always mean disaster, but this image of Cameron Peterson rejoining the course shows just how hard it is on machinery.
Racing remains a family sport, with rider, crew, friends, and family all there to support each other.
Famous riding coach and author Keith Code talks with defending champion Toni Elias after the races.
Everyone was all smiles in the paddock. The atmosphere this year was much more jubilant and excited compared to the past few years.
"If you have been involved in a motorcycle accident, don't let it steal your freedom! Call 1-800-4-BIKERS to learn how an experienced motorcycle accident lawyer can get your bike fixed, money for your medical bills, and compensation for your pain and suffering."