The answer to all of life's mysteries is, "motorcycle." Well, it is if you're Bob Marshall. And that's because the author of the book American Road Runner has had motorcycles as a central piece of his life since childhood. His father had a custom chopper, and as a father himself he and his son have worked on many machines, including the land speed racer that Bob takes to the Bonneville Salt Flats and El Mirage dry lake bed.
Bob also hosts a podcast, called American Road Runner as well, where he gets to share stories about his own experiences on the road along with those of others. It's a true everyman's show, focusing on guests who ride, build, race, or otherwise live motorcycles. The characters are far more relatable when compared to listening to industry heads or celebrity builders from cable TV.
Despite being immersed in all things motorcycle, Bob still has time to work a 40-hour week, raise a family, and even restore an old typewriter from time to time. Fortunately for us, he also has time to sit down and talk about his many exploits and passions. We had to meet up in stages, both of us being on the road and having to make time zones jive for a phone interview. As luck would have it, we both ended up at the Kernville Kampout and were able to spend some time riding motorcycles and not just talking about them.
Bob Marshall struck me as being true to his roots, having a wealth of knowledge on far-ranging topics both technical and philosophical: the kind of guy you want to share a campfire with, or a pit space at the local speedway. He has a friendly demeanor and speaks with a tell-tale Missouri accent, despite being born and raised in California.
Having accomplished a lot on two wheels, Bob feels like motorcycling is a scene where anyone can get involved. "I think that's really the amazing thing about motorcycles, is, I'm a really normal guy. I have a normal day job, I am a single father; when I'm not on a motorcycle I'm driving a Ford Excursion with kids hanging out the sides. I live in a historical house in downtown Riverside that was my family's before it was mine, so I'm very normal. And if I can get out and enjoy America, and the roads of America, then I think anyone can."
There is certainly truth to that statement, but there is a reason most people don't race custom-built choppers long distance while also running a podcast, promoting a book, and writing a second book… all in between trips to the dry lakebed. The reason is burnout. It doesn't matter if your passion is motorcycles or football or playing shuffleboard. If you dive into it deep enough, long enough, it turns into an all-consuming behavior that can throw your life out of balance.
This is something I have first-hand experience with, so I asked Bob about it. I told him, "I had a hard time with spending hours in the garage and the hours on the road in the van just to get that 15-minutes of fun and the half-hour buzz afterward [from racing]."
Bob didn't need to think for long before replying, "For me, I was lucky because it was all just good ol' family time with my pops and my son. I was really lucky in all that. When we're out to land speed racing, we're camping and all that. You know, we're out on the course for all of two minutes, but the rest of the time is just being with good people."
That's a seemingly simple observation but it definitely stuck out to me. Bob Marshall doesn't pursue his love of motorcycles and machines at the expense of his other relationships: he does it because of them.
As humans, we usually pursue anything at the cost of something else. In business, it's called "opportunity cost." Time spent on the road is time not spent with family, doing household chores, or pursuing other hobbies. Interests like motorcycling are often integrated into our lives for this specific reason. Most of us go fishing or take a ride into the countryside because we want to get away from things that demand too much of our attention, which prevents burnout.
I found it surprising that anyone could get as much time in the saddle as Bob Marshall and not be living a life that's totally out of balance. But his ability to find balance seems to be why he does so well at things like long-distance racing, which is the main topic of his book, American Road Runner.
The American Road Runner Book
An illegal coast-to-coast race called the Stampede was running every year to the Smokeout: a huge gathering put on in North Carolina each year. This sort of Cannonball event had very few rules other than it had to be completed on a rigid (as in, no rear suspension) motorcycle. It wasn't about prize money or fame, but more about doing it for the experience.
So how does someone maintain balance in an event specifically designed to push you to an extreme? "I just grind it out," Bob says of long-distance races. "I keep a steady stream of caffeine and nicotine and just go. And it's been a while [since I did the Stampede]. I just did the 'ride 1k in a day' against Chopper Charlie [of CycleSource Magazine] and, boy, he whooped my ***. Some of it was the route but, you know I just had to learn that racing a thousand miles and racing three-thousand miles are totally different games."
Interested, I asked, "Really? How so?"
"Well, when you're racing three-thousand miles, you can actually stop for five minutes, refill your coffee cup, use the bathroom… and as long as you keep going all through the night and all through the next day you're gonna be okay. When you're only doing a thousand miles that kind of stuff is not okay."
"Chopper Charlie ran a catheter; he had a gallon of water in one of those Camelbacks […]. He also ran a total of ten-gallons of fuel so he only had to stop three times to refuel and, you know, refueling was only a three-minute affair and he was back on the road […] I was really proud he read my book, got all excited about racing, and killed me on that one [laughs]."
The Future of Transportation
It should come as no surprise that Bob Marshall is also a philosopher of sorts. And like most people involved in the motorcycle industry, he wonders about the future of motorcycles. With less disposable income, there are fewer people willing to buy a $15,000 weekend toy. Also, with traffic getting so thick, it has long ago filled the suburbs and is already spilling out into the countryside. It's hard to feel the freedom of the open road while staring at the back of a bass boat being towed at 45mph.
One of the things no one seems interested in talking about is motorcycles as transportation: as a replacement or supplement to cars. Commuter bikes lack sex appeal (and profit margins) for the emotionally charged buying decisions the industry normally creates ads for. But with the huge reduction in road wear and the ease of parking a motorcycle, they have distinct advantages for both city planners and road users.
Bob Marshall sees things in a similar way, summing it up like this:
"We are in a national epidemic right now and I truly believe that, because we are spending more on our transportation than on our housing. There has to be a break in it somewhere, and that's one of my other writing projects is, 'how to use a motorcycle every day.' I know I do. If it's the week and I don't have my son with me I use my bike to go everywhere: the grocery store, the bank… everywhere.
"It doesn't bother me to be cold for ten minutes or to be wet for ten minutes. But I'm in Southern California where the weather is pretty good all the time […]. But why are we as a society spending so much money on cars, and the answer is, because we came home from the hospital in a car. We grew up with cars, so motorcycles can seem scary."
That's easy to forget for people who have been riding most of their lives. Not everyone knows someone who rides. Not everyone knows how to lube and adjust its chain. Most manufacturers seem to realize this and are focusing on eliminating barriers to access.
There is more focus on lightweight and medium-weight machines, providing things like ABS and modern fuel injection in a category that was once a place for twenty-year-old designs that got a new paint job every few years. Witness Harley Davidson's purchase of StaCyc, which produces electric strider bikes for young children. They have also shown concepts for urban-focused electric bikes that are much smaller and closer to bicycles.
But this doesn't mean motorcycles need to become boring or uninspiring in order to keep up with trends, and that's why Bob Marshall owns bikes ranging from a Honda Rebel 250 on up to his land-speed racer. There is still truth to the old saying that four wheels move the body, but two wheels move the soul.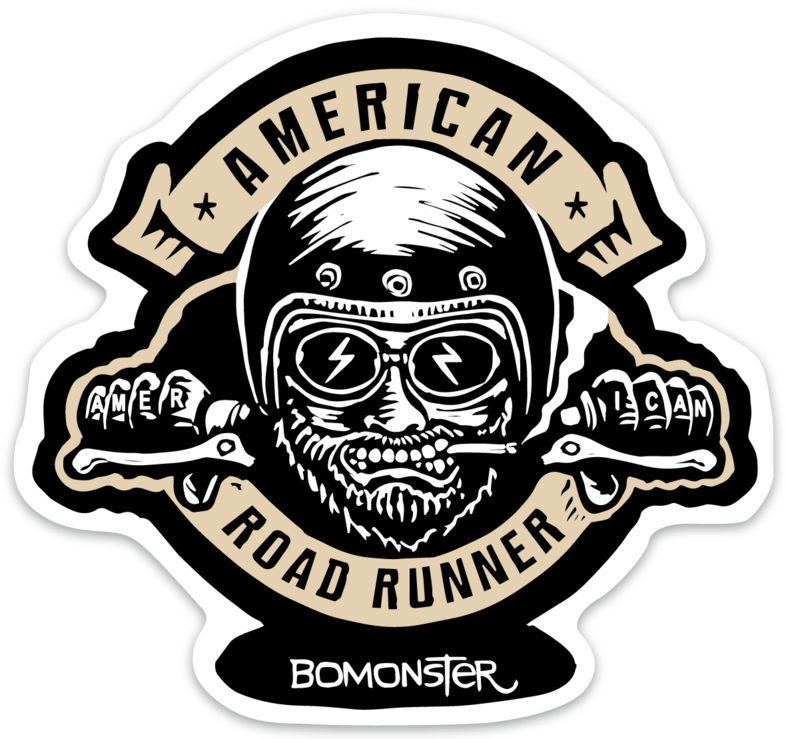 And, seeing Bob as a person focused on long-distance riding, I had to ask him what steered him towards choppers; a custom-built machine with no rear suspension doesn't seem like the first choice for long days in the saddle. Their purity and simplicity seemed to be the main driving force behind his interest in choppers, but let's have Bob explain it in his own words:
"Seeing the extreme of [choppers]. Being able to do something really cool […], something that would test my mechanical abilities—I'm a mechanic for a living—challenging my welding abilities, my fabrication abilities. I took metal shop for four years in college, so it wasn't a big deal to see a motorcycle and think, well I can build a motorcycle, now let me see how fast and far I can take this machine."
And I reckon that concept is one of the main reasons motorcycling can range from a casual hobby to a lifestyle. You can buy a bike and learn to ride, or you can fill a garage with them and spend every spare moment riding, wrenching, or reading about them. You can quench your thirst on the street, on the trail, or on the racetrack.
Some even do it in the garage, building a project and riding it around for a few weeks before selling it to fund the next build. There are so many facets and so many ways to express yourself with two wheels: there is always a way for a normal person to do extraordinary things with a motorcycle.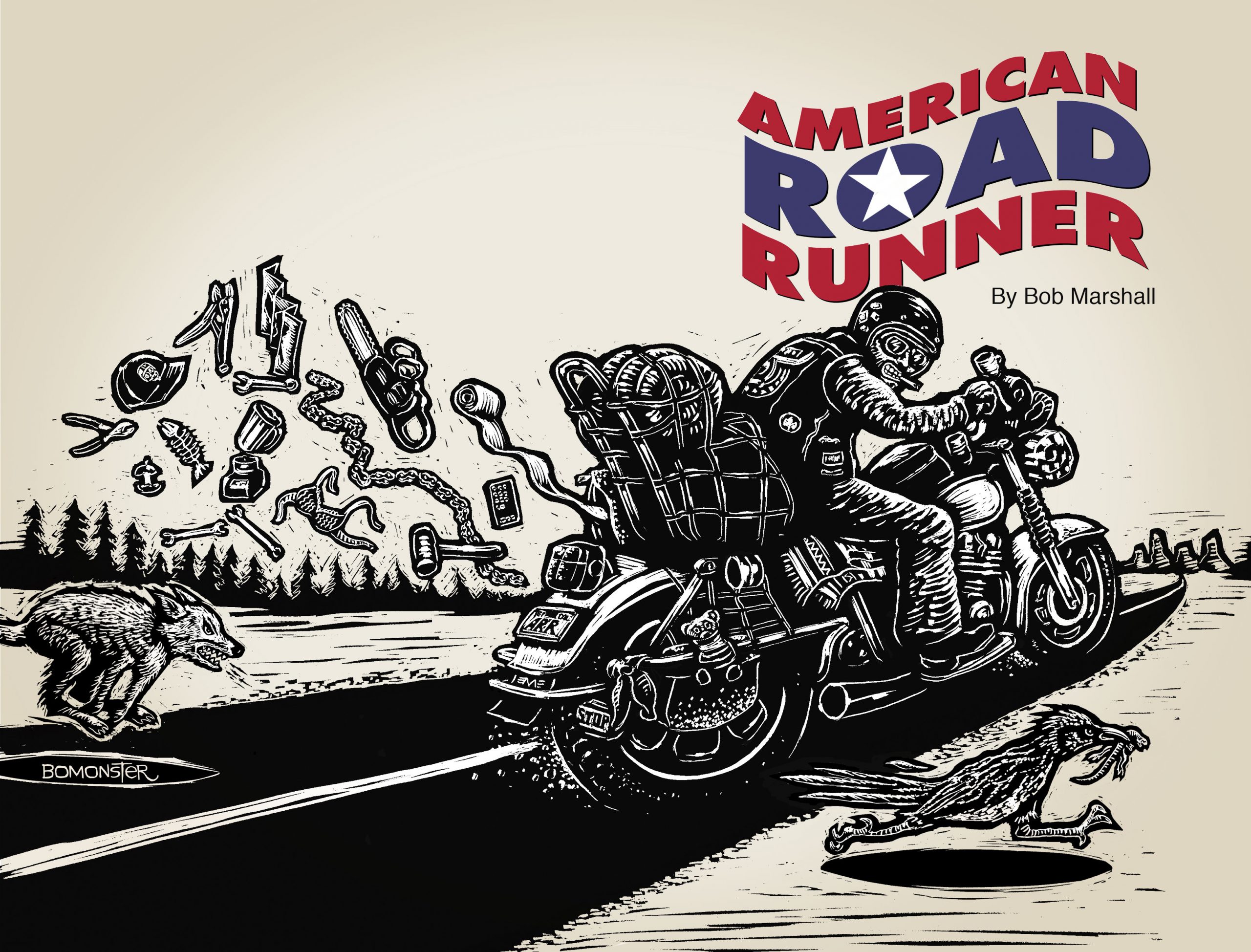 Bob Marshall is on the extreme end but only because it's what drives him. He is an ordinary person with a day job and a family, like most of us. He just happens to have a knack for finding oddball adventures, which puts him in contact with people who have stories of their own oddball adventures. Putting those stories out in the form of a podcast is a great way to give the rest of us some oddball ideas of our own.
Despite building and racing motorcycles, having a family and a full-time job, and putting on his podcast, he still managed to pen an excellent book about his adventures on the road, and he isn't done yet. Bob is working on the audiobook format of American Road Runner while also writing three more books: a young adult fiction novel, a look at the motorcycle as a practical form of transportation in the future, and a sequel to his first book.
You can find Bob Marshall's book in the usual places, or get it direct by visiting American Road Runner The Book, which also has a link to his podcast. American Road Runner is really a story sharing project, not just a book or a podcast. That means there are many stories shared from other adventurers on the home page as well. The social folk out there can also find him on Instagram under the handle @americanRoadRunner, as well as Twitter and Facebook. Probably the best way to see what Bob is up to though is to throw a leg over your own bike and find him at any number of rallies, races, meetups, and get downs. Out on the road is where the strongest connections are made.
"If you have been involved in a motorcycle accident, don't let it steal your freedom! Call 1-800-4-BIKERS to learn how an experienced motorcycle accident lawyer can get your bike fixed, money for your medical bills, and compensation for your pain and suffering."