The Arkansas Ozarks is a mecca for motorcyclists. I'm lucky to live among all of this mountainous beauty and truly appreciate all of its splendor. After my husband and I returned from a trip to North Carolina, the first thing we did was plan a RIDE in our own home state. It didn't hurt that while I was gone, I received a notification that I had just become the Official Ambassador for Motorcycle Tourism for the entire state of Arkansas!


Everyone knows I build and ride old Harleys but a lot of people forget that I first started riding on enduro/dual -sport bikes. Although my vintage bike habit (along with my hot rod Mopars) keeps me broke and concentrated solely on those two things in this life, my husband just happens to own matching Yamaha TW 200 dual sports!  While it is still fairly cold here; frankly too cold for me to enjoy the Panhead, we can, however, jump on the pair of enduros and hit some roads at a much slower pace. Arkansas has such a wide variety of backroads to ride and at any given time, an adventure is waiting just around the corner. We decided a two-day ride at different starting points would be ideal.
As frugal as I am, my need to save money is finally starting to rub off on my husband. He has a 1971 Jeep Wagoneer that he calls "The Duke" that functions as a very simplistic overlander vehicle; back seats folded down with a free Futon mattress in the back.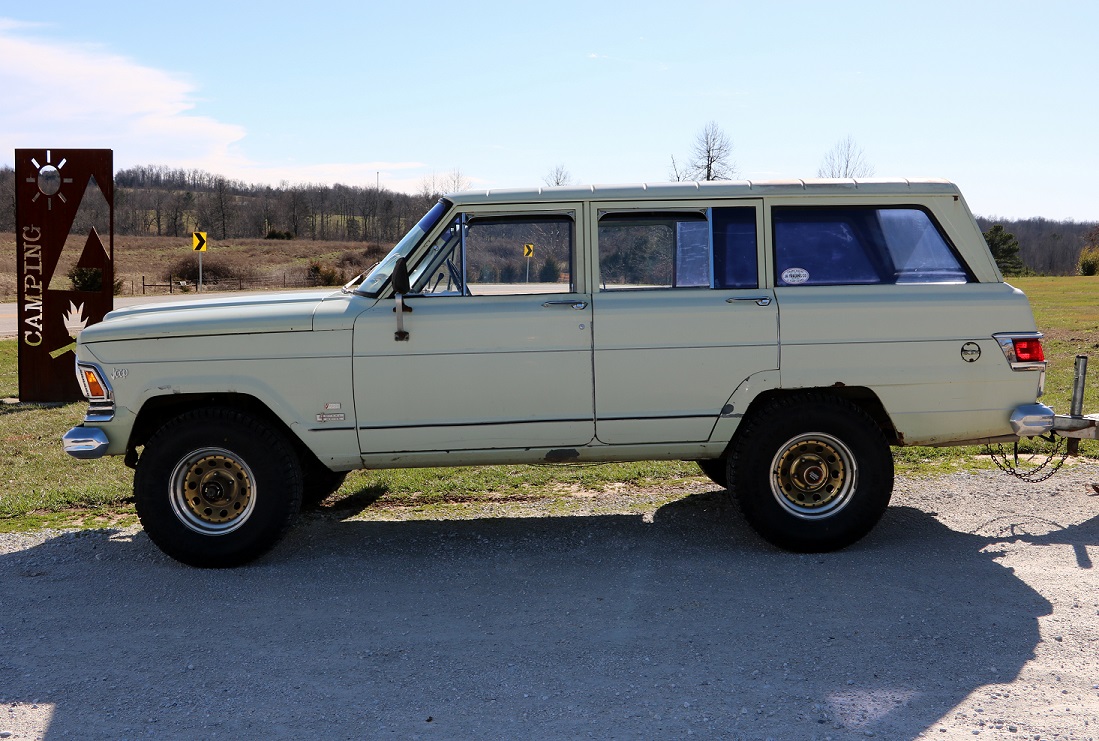 We decided to ride into some local charming towns, where there are plenty of good two-lane roads and at any given moment, dirt roads for when you feel the need to get off of pavement, either to see something off the beaten path or to just take a break. The great thing about these roads is the hills and the valleys, the great scenery, fresh air and the almost non-existent traffic! When I ride I not only like to clear my head but I love to take in the natural beauty of where I am riding and usually feel that there is no need for much social interaction or even "town-life" as nature provides all of the art that I need with a couple tanks of gas.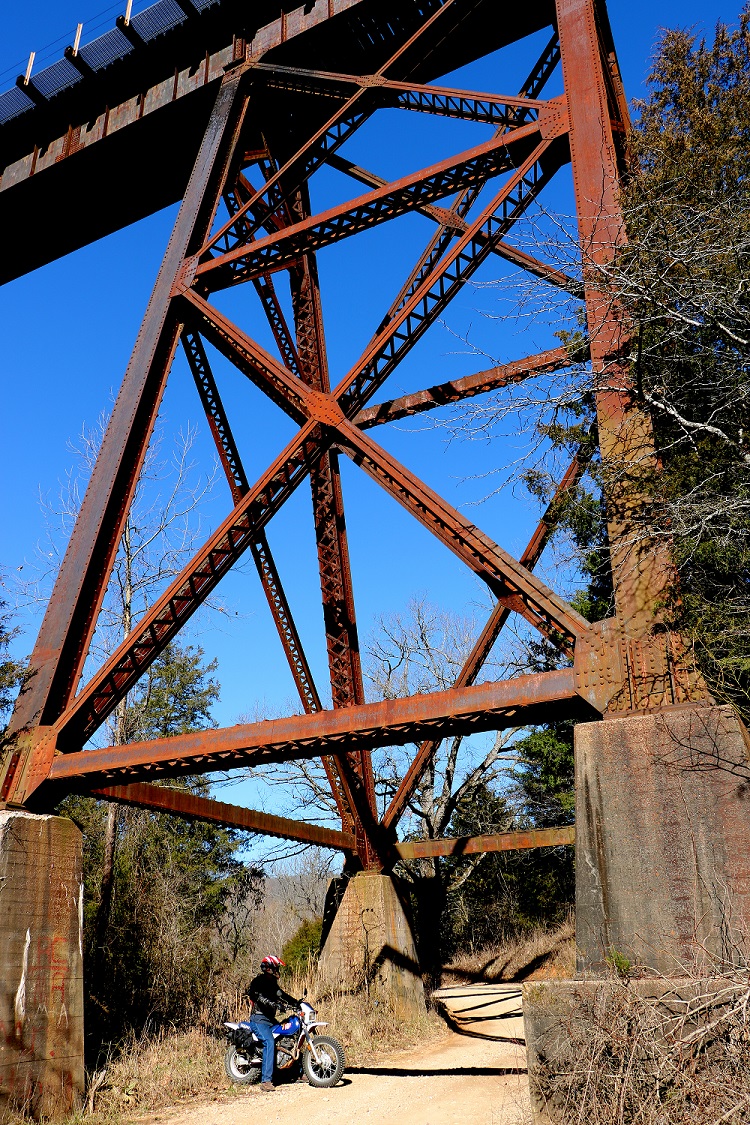 In the Ozark Mountains many backroads intersect and in short notice you can be in a new town in no-time at all versus the regular highway that most folks drive to get to work, run errands or take their kids to school. On our first day, we arrived in Compton via Highway 43 where we had wonderful elevation changes going up the mountain and at the same time sharp turns, long sweeping curves with plenty of straight roads as well. Compton is a very small town with just a post office and a general store (JB Trading Co) that happens to serve some really great food and also sells top of the line quality camping gear. They have recently added a campground that offers unique lodging such as the platform tents and boasts the nicest campground bathhouse around. They give away free stickers and since they are very close to a lot of hiking trails near the Buffalo River, they also give away maps. I grabbed a sticker that stated "Death rides a fast camel" and stuck it on "The Duke".


If you travel a few more miles you will encounter Boxley Valley where there is a small herd of elk that was brought here in the early 1980's. Lots of people pull over and look at the elk so please be careful if you are riding and watch out for drivers who might not be watching out for you. After going down into Boxley Valley, we then proceeded back into the Compton area and took a turn to go into another small town of Osage. Osage is home to Osage Clayworks, per their website "Handmade pottery in a neat old building" and it is exactly that! It is located in the former Stamps General Store Building that was built in 1901 and is listed on the National Register of Historic Places. All the pottery is fired right in the store.


We made a stop at another building that is also on the National Register of Historic Places- the Shady Grove Delmar Church and School. I love to photograph old churches as old buildings just have so much character. I found out this one was built around 1880 and it looks like they are still in the process of restoring it. While we were stopped there, we took a few minutes to have a couple snacks and saw some other dual sport riders go by.  On the dirt roads we did travel down, a few of the bridges were closed due to all of the rain we had gotten the week before so we had to turn around. I think a neat goal would be to see every building in Arkansas that is on the National Register.


We enjoyed such good riding, plenty of curves, nice weather and landscapes. When I'm out riding I always wonder how anyone can be inside watching TV. As we rode around the area clearing the mind we also saw lots of wildlife out and about. A roadrunner crossed the road in front of us and a few miles down the road, we saw two beautiful bald eagles sitting in the same tree! Unfortunately, I could not get my camera out of the tank bag fast enough to catch that moment. We saw several turkeys and a deer out in the fields enjoying the rare sunshine of the day. After riding several hours we decided to make our way back to JB Trading Co. in Compton and order their decadent bacon cheeseburger with a nice helping of onion rings and some of the best ranch dressing EVER!


When we woke up the next morning we decided to make a trip to Alpena or as some folks know it Alpena Pass, a very small town with very old school values. Since we got around so late, just enjoying the camping, we picked a place called The Diner to eat. By this time we were starving and our fingers were a little cold so a nice warm cup of coffee hit the spot! Alpena might seem large in comparison to where we were in Compton, with the one gas station and only "restaurant" combined into one. Alpena supports three restaurants, two gas stations, and about 20 or so unique shops. One of the most well-known as well as odd would be the chainsaw artist located in downtown Alpena. After riding over 100 miles on the dual sports, we made our way back to "The Duke" with cleared heads and lots of great memories, already planning our next adventure.
I urge every rider to get out and enjoy their state. Each state offers such an assortment of different terrain, great landscapes and marvelous structures that to not enjoy it would be a sin!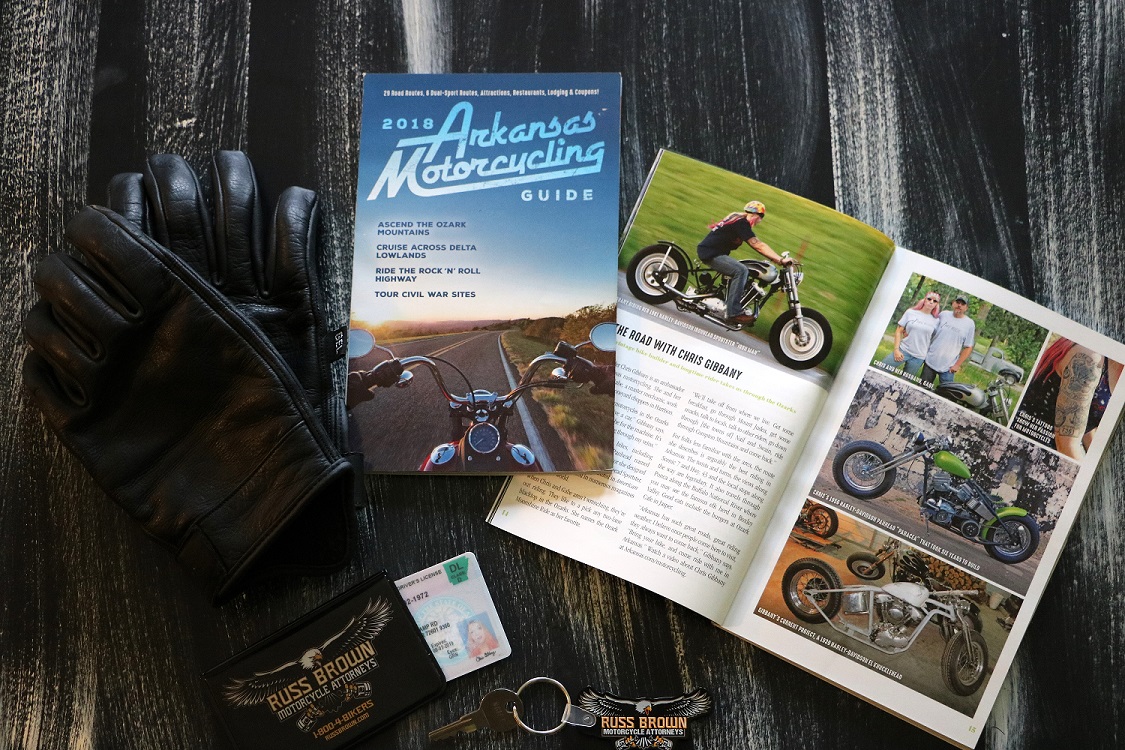 "If you have been involved in a motorcycle accident, don't let it steal your freedom! Call 1-800-4-BIKERS to learn how an experienced motorcycle accident lawyer can get your bike fixed, money for your medical bills, and compensation for your pain and suffering."