So, since I've been opening up my current moto + photo interviews with a story of how I know each photographer, I've been racking my brain trying to remember the story of how Genevieve and I first met, but I just can't put my finger on it! I feel like we have just kind of always known each other at this point…we've worked together on shoots, attended tons of the same events, and have so many of the same friends! When I think of her and her work one main word comes to mind…ADVENTURE! She truly lives a nomadic lifestyle out of her van and is always up to something, dare I say, adventurous. One day she's out riding dirt bikes in the desert and the next week she on a week-long spur-of-the-moment sailing trip in Seattle. She's one of those women that grabs life by the horns and never seems to be sitting still but knows when it's time for her to go off the grid for a 10-day silent mediation. I find her to be fearless, I find her to be extremely inspiring, and I think you agree!
Who are you and where are you from?
My name is Genevieve Davis. I'm a nomadic, full-time professional freelance photographer, a motorcyclist, surfer & and outdoorswoman. I am from Laguna Beach, CA, and currently reside in Costa Mesa, CA. 
How did you get into riding motorcycles and what bikes do you own?
When I was 19 I dated a guy who owned a 1960s Triumph. I fell in love with it instantly. I never had an interest in riding on the back, and immediately got to scheming on saving for a bike of my own. I bought my first motorcycle 3 years later, a $900 1976 Honda CB 360 cafe racer, which I resurrected from the dead with the help of a friend. I now ride a 2000 Harley Davidson Sportster 883, & a 1978 Yamaha DT 175 for the dirt trails.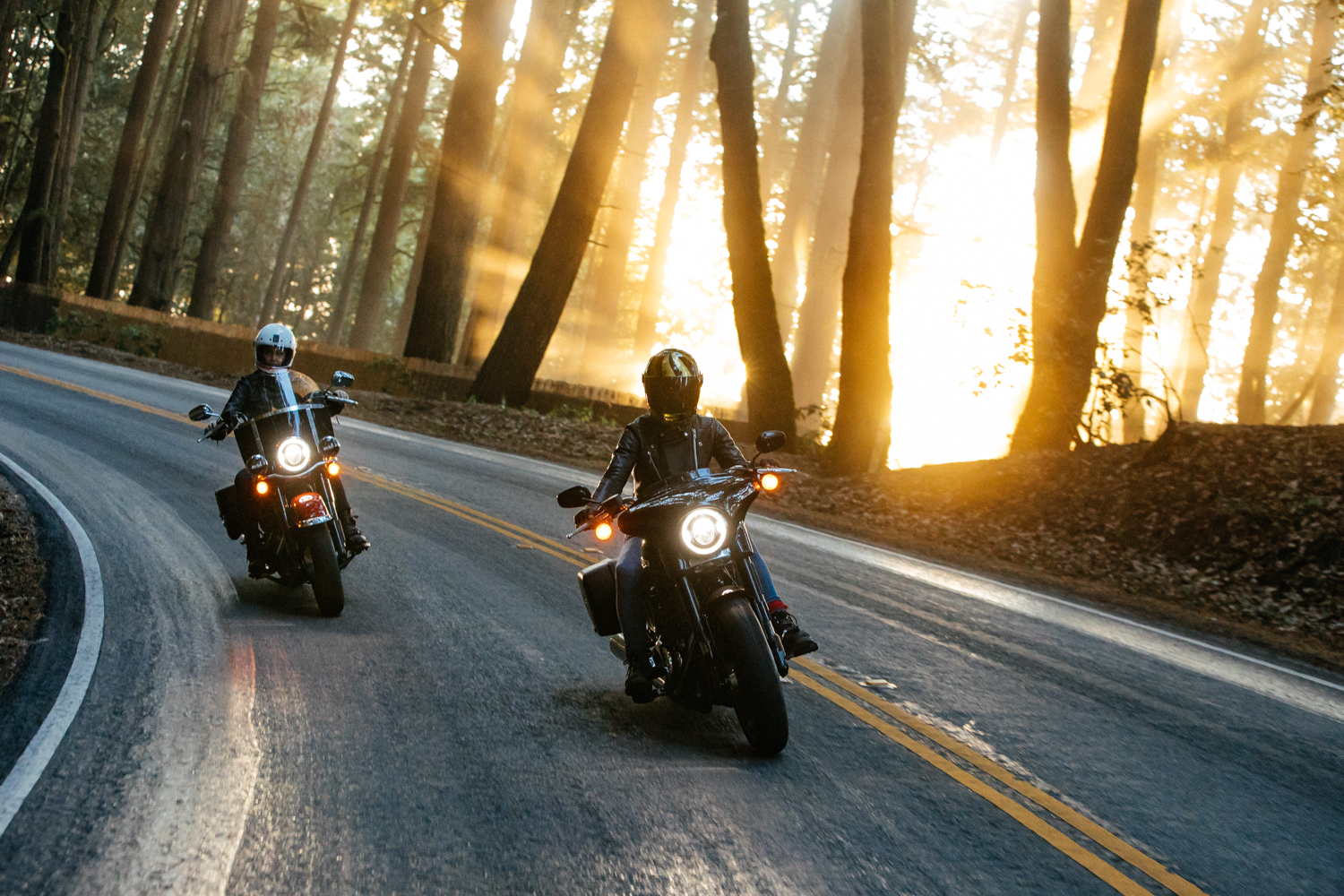 What got you interested in motorcycles and learning to ride?
I grew up rollerblading, then skateboarding, and at age 19 I joined a roller derby team and played in a highly competitive banked track league. Motorcycles seemed like the next step in a natural evolution of enjoying going fast on wheels. 
What was the best moto trip you've been on and why?
I've been lucky enough to go on some dreamy cross-country motorcycle trips with groups of awesome women riders that have all been pretty special. If I had to choose, the 3,000+ mile ride from CA to South Dakota in August of 2018 with my friend Nathalie Kossek was my favorite. We rode through California, Nevada, Idaho, Montana, Wyoming & South Dakota. For 6 days we lived off our bikes, camped near some epic swimming holes and breathtaking mountain views, and I pitched my hammock to sleep under the stars every night. It was simple and perfect riding under big sky country. We had beautiful weather all week, and I had just left my full time job as the in-house photographer at Vans to pursue a freelance career the day before we left, so I was completely electrified with freedom.
Favorite memory from the road?
Too many to have a favorite, but I was reminded of a cute story recently I almost forgot about. My first big girl motorcycle trip was with a group of 10 women I had just met at the first Babes in Borrego about 8 years ago. Nobody knew each other prior to this trip, but a few gals organized us thinking a women's long-distance moto ride would be a cool thing to do. We rode from Southern California to Washington, up the coast and back down the east side. One day when we were riding in the redwood forest in Northern California, Jackie Danger's shifter broke off her custom chopper. We were deep in the woods, and I had packed my roller skates, and somehow we figured to take the screw from one of my skates and macgyver it into a shifter for Jackie. It worked perfectly! 
What are your essentials on a moto trip?
Once I rode to Mexico practicing a minimalist packing technique and only brought one T-shirt and one light jacket. I didn't realize you had to ride through the desert to get there-which gets freezing cold in the winter. We hit a wind storm at one point and passed snow on the ground at another point, and by the time we got to our destination 6 hours later, I must have been pre-hypothermic. I couldn't stop shivering even after 40 minutes in a hot shower, so now I never leave without plenty of layers. 
What got you into shooting photos? What kinds of cameras do you shoot with?
I have a terrible memory and in high school, I started shooting pictures of my friends so I could remember the people I love and the fun things we would get into. That eventually evolved into developing a passion for photography. In my Junior year of high school, I was lucky enough to have an art teacher that saw something in me and encouraged me to pursue photography professionally. I shoot with a Canon 5D MK IV. 
Where has photography taken you that you never thought it could?
Through photography, I have created a humble but beautiful, creative, and unique life tailored to my interests and values. It has taken major sacrifices at times and a lot of sweat equity, but after 12 years of pursuing a dream of supporting myself through my passion, I am grateful to say at this moment I feel fulfilled in my daily life. Photography enables me to be my own boss, balance hard work with a lot of play, explore and travel, and meet some incredible people. I never take this lifestyle for granted, as a freelance creative no matter how successful you become you're never "safe", but I thrive in a certain amount of discomfort and I would choose this life over something safe and soul-sucking any day of the week. 
How have photography and riding changed your life?
I attribute much of the reason I have been successful as a freelance photographer to riding. I never imagined creating a career out of combining my passions of photography and motorcycles, but I started getting hired to shoot my passion project-women riders-and things just snowballed from there. Most of my work still comes from within the motorcycle industry.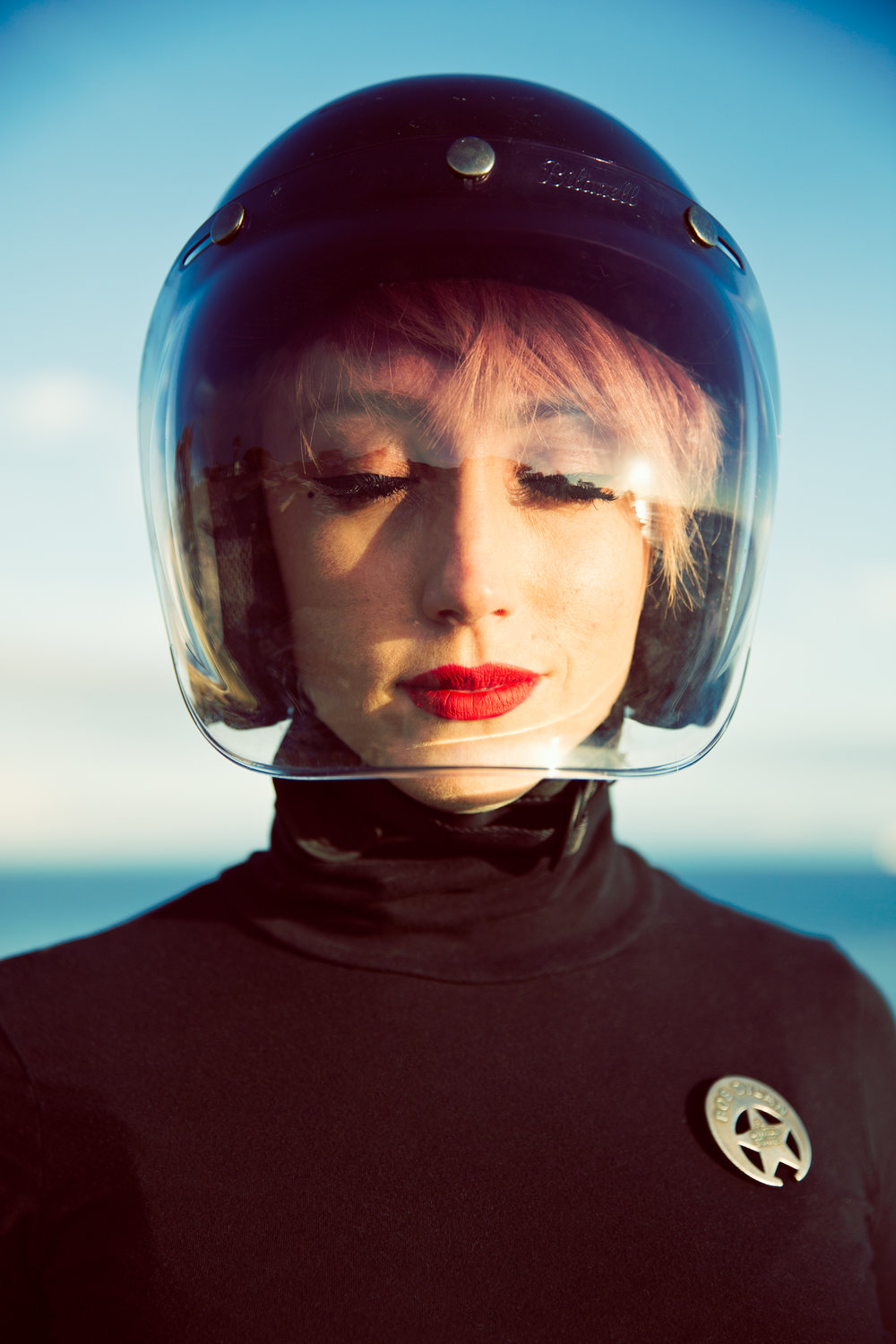 What is your mission/purpose behind the lens?
I want to give women an example of someone doing something alternative to the norm, to show you don't have to live a cookie-cutter lifestyle and that anything is possible.
What's been the most exciting photography opportunity that you've been offered from being involved in the motorcycle community?
In October of 2019, I went to Italy and joined the Eagle Rider Italia team to photograph their 2-week motorcycle tour of Italy by bike. It was an incredible experience and I made lifelong friends on that trip.
What do you do when you are feeling uninspired? 
Unplug and go deep into natural spaces. 
What advice would you give those who want to learn to ride?
Take the M1 course. It's totally worth it to learn the basics. If you're not in a position to pay for that course, see if you can find a friend that will take you out on a dirt bike.
Where can people see more of your work and get in touch?
website: www.genevievedavisphoto.com
IG: @genevieve_davis
email: genevieve@genevievedavisphoto.com
Written By: Adri Law
"If you have been involved in a motorcycle accident, don't let it steal your freedom! Call 1-800-4-BIKERS to learn how an experienced motorcycle accident lawyer can get your bike fixed, money for your medical bills, and compensation for your pain and suffering."