Six Years – that's how long the annual Babes Ride Out event has been going on. I've been attending since year one – a little campout called "Babes In Borrego" that I spotted on Instagram. A friend of mine, Emma, encouraged me to get licensed, get a bike, and get on the road before the event. So I did! I bought myself a Honda CB360T, and just prior to the ride, I moved up to an H-D Sportster.

My Ride, a 2000 Sporty Chopper I built in the kitchen
And ever since, each October I have headed to Joshua Tree, in Southern California. A beautiful ride through the National Park, surrounded by the beautiful desert scenery – truly an escape from the hustle and bustle of Southern California.

Scenic rides all around the desert
This year, due to weather and time restraints, I hauled my bike to Arizona from Wisconsin, then made the ride along Route 66 to Amboy, CA where I hung a left and headed towards 29 Palms. I rolled into the event space early on Thursday morning so I could catch all the babes riding in! Bike after bike, loaded with camping gear, ridden by women. Some rode in two up, some rode in solo, others in large groups. Bikes varied from big horsepower Harley-Davidsons to small cc vintage Hondas and Kawi's, to sport bikes, naked bikes, dual sports, and even a Vespa!

A cool Ural hosted ride alongs in the sidecar
@CoveCabin's killer ride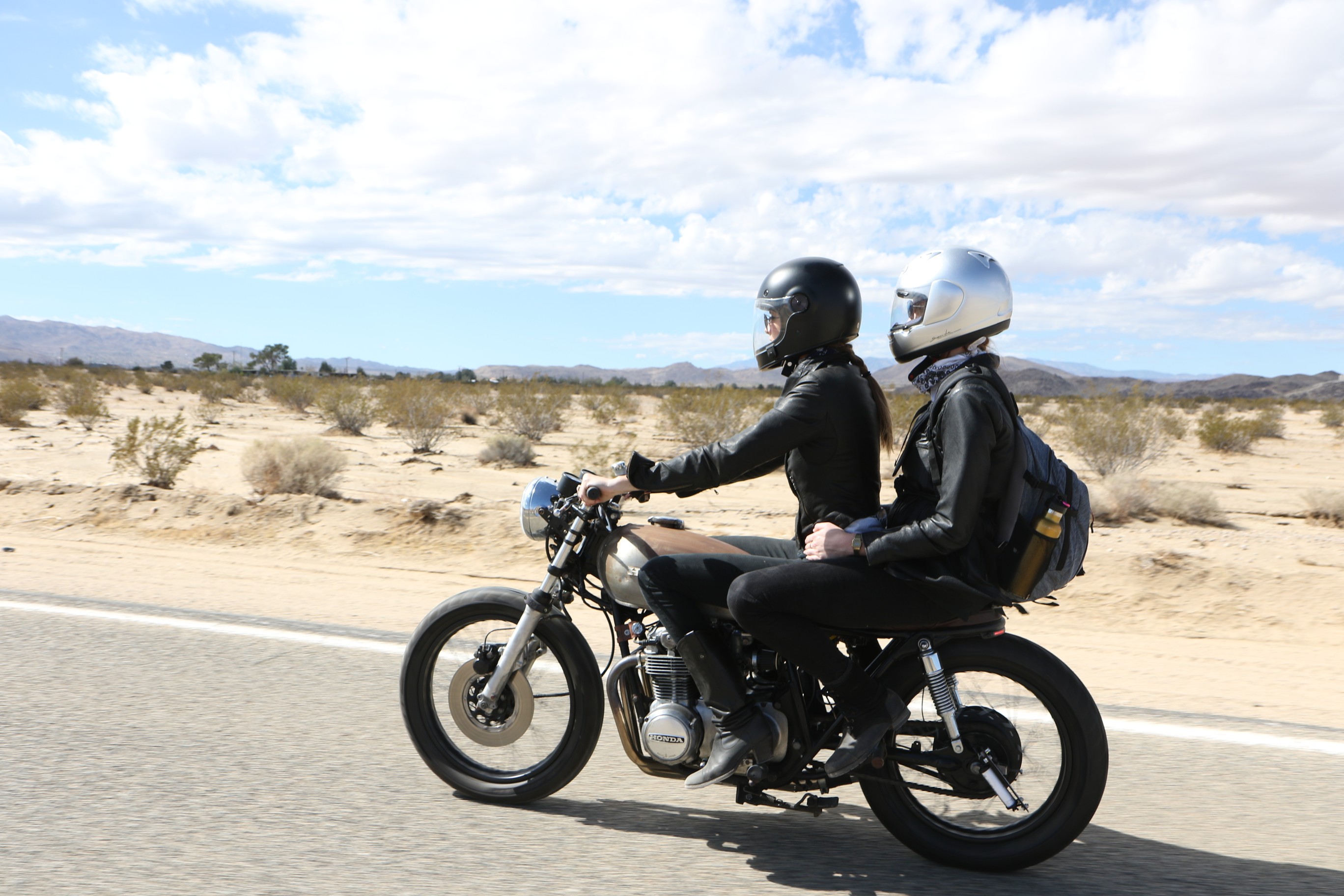 Two sisters two-up on their vintage Honda
After setting up camp, the ladies rolled into the main event arena. Hosting a large stage, and various vendors, ranging from Lucky Wheels Garage – an LA-based DIY moto garage, to SENA, Biltwell hosting free pinstriping, Atwyld women's safety gear, the MOTO FAM charity raffle and more. Real Deal hosted multiple workshops, including MIG welding with Jessi Combs, Theresa hosted pinstriping classes, Joy hosted blacksmithing (which I highly recommend you try – it's great to get some aggression out on red-hot metal!)

Camp saw tents scattered about in the rising sun
Makers Market hosted embroidery and leather crafts
Lowbrow customs offered custom painted tanks in the MOTO FAM raffle
SENA hosted test rides of their Bluetooth communication devices
@theJessiCombs taught MIG welding in the Real Deal Workshop
Custom painted helmets like this buffalo from Christina @tattoosbytina in the MOTO FAM raffle
Later that night was the Karaoke party – and you can imagine how fun that was! The ladies let loose and belted out some tunes, from the hilariously silly, to the incredible soothing voices of some of the BRO-goers.

Amity belts it out for Karaoke
The next morning, most of the gals headed out of camp to enjoy the variety of rides – Idyllwild, Salton Sea, Salvation Mountain, Big Bear, and of course, the Joshua Tree National Park itself. The roar of engines started as soon as the sun rose –  after all, you have to be back at camp for more fun at dusk, such as the Real Deal Moto Show!

@MeganMargeson_and_her_incredible_panhead_long_chopper
Friday night hosted a DJ dance party, Sumo Wrestling, and a ton of fun. Ladies of varying ages hit the dance floor to bust a move! The same routine for Saturday morning – roll out of camp, ride all day, and roll back in time for the Triumph Moto Games – including a slow race, and barrel racing! I tried my hand at barrel racing, and I'm NOT great at it!

Mich and Ashmore started out the Sumo Wrestling with a bang!
Saturday night brought in Yachty by Nature – yep, they're a yacht-rock cover band who got the girls doing their best dad-dancing and singing along!

Yachty By Nature on stage
Watching women from all walks of life, and all ages, connect through motorcycles is an incredible thing. There were a couple ladies who have been riding many years longer than I have even been alive! You might even spot a famous singer or actress, women who race professionally, and some babes you've seen on TV!

Theresa of Real Deal hosted the Moto Show announcements
Gevin Fax has an incredible voice to sing Karaoke
The ladies enjoying Yachty By Nature
Photobooths hosted plenty of fun, especially these ladies in Onesie PJs
It didn't matter what bike you rode in on, or if you rolled up in a pickup truck because you haven't yet gotten licensed – this event is wholly welcoming and I truly believe it encourages women to start riding. It's really inspiring – I spoke to a couple ladies who attended years prior, and due to the atmosphere and fun, they went out, took an MSF Safety class, and got licensed. I know, from this, that an event like Babes Ride Out can truly get more women behind the handlebars and enjoying the freedom of the open road! It's personally taken me from a non-rider to working in the motorcycle industry, both as a Social Media Coordinator and as a (hopefully!) soon to be MSF Rider Coach!


If you're considering heading to Babes next year, be sure to grab your BAM card for a little extra peace of mind while on the road, and load up that motorcycle and GO!

Moto Mamas of Babes Ride Out, at a coffee meet hosted by RedWing Women's Heritage
Written by: Savannah Rose aka @themouseandthemoto
More Photos:

The bikes of the Moto Show varied to every style
Some lucky winner got a Russ Brown battery pack in the MOTO FAM raffle
Tiffany @littleburdie laid down some BRO tattoos
Joy hosted blacksmithing classes at the Real Deal booth
Leather workshops happened at the Real Deal booth
Anya and Ashmore's moto Mamas handled the Merch booth
@jenhalletart_did_custom_pinstriping_on_Biltwell_helmets_
The lineups of bikes ranged across all makes and models
Live Music and DJs with plenty of dancing
Ladies both reunited with old friends and made new friends all day
"If you have been involved in a motorcycle accident, don't let it steal your freedom! Call 1-800-4-BIKERS to learn how an experienced motorcycle accident lawyer can get your bike fixed, money for your medical bills, and compensation for your pain and suffering."