Oh, you don't know who Becky Goebel is? How about 'Actually it Axel'? Haven't heard of Dreamroll? LoserPalooza? (I'm sure you have) Well, I'm here to tell you about an all-around badass, who happens to be my best friend!
Becky's a writer, rider, event host, and kind of jack of all trades if you will. She's originally from the prairie lands of Saskatchewan, Canada but currently resides in Long Beach, CA, she claims it's so she can ride motorcycles every day of the year, but I know it's just because she missed me!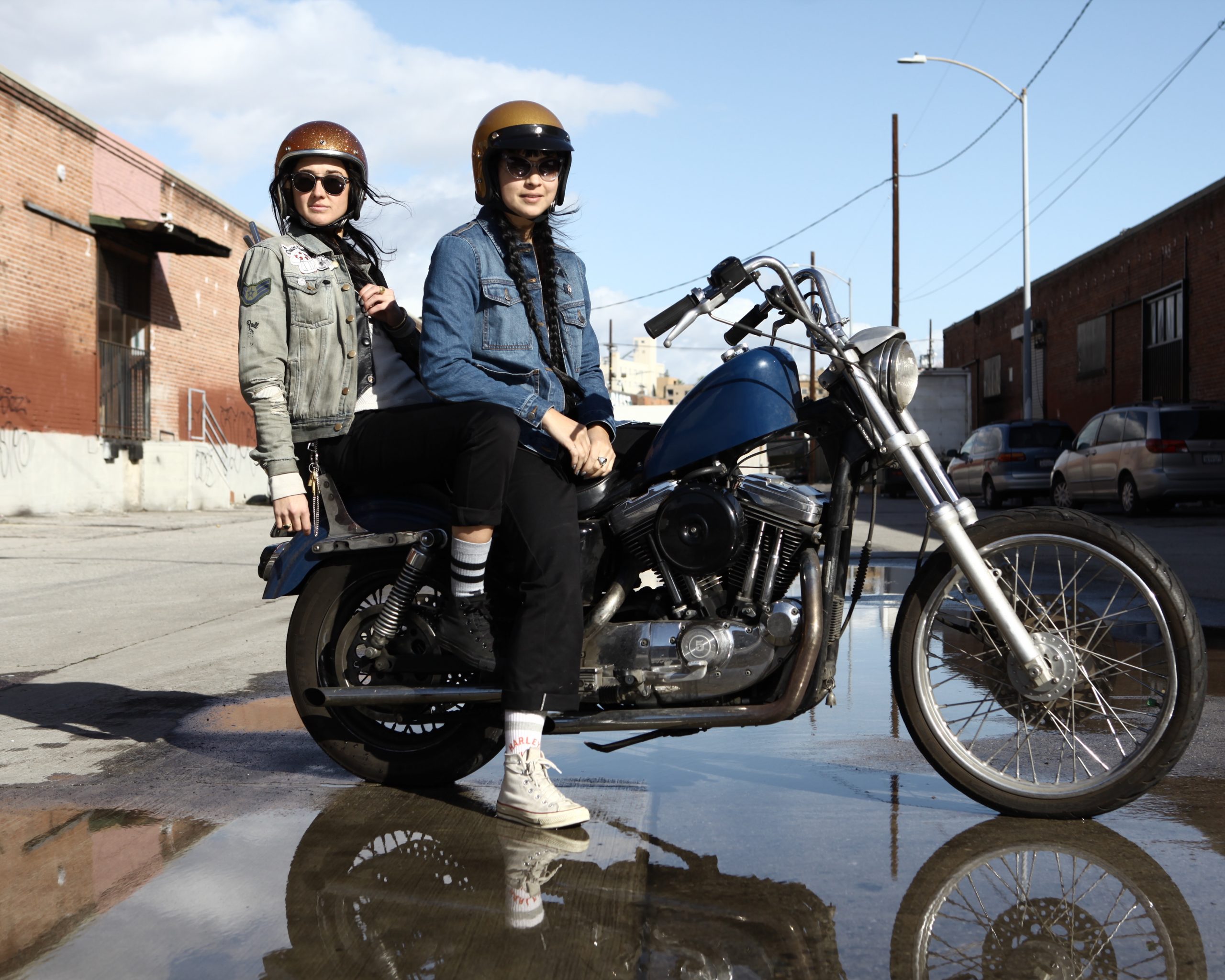 All jokes aside, she moved down here from Vancouver to work, which revolves purely around motorcycles. She is a Co-Founder of The Dream Roll and started her own chopper show in Vancouver, LoserPalooza. She writes for numerous magazines and media outlets so she always needs to be able to travel and ride and pretty much be outside, and as we all know, California, especially LA, is known for its incredible weather.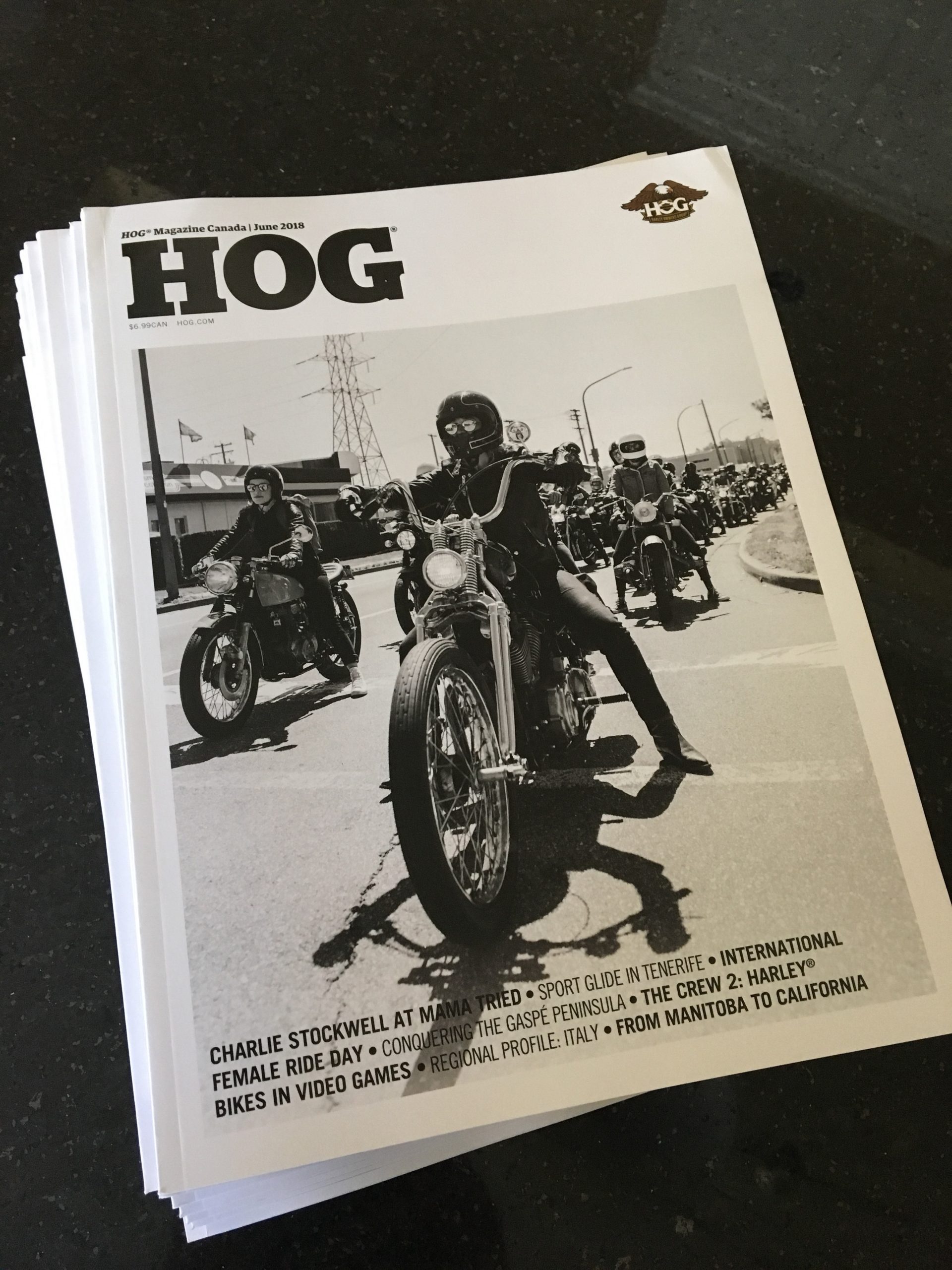 Becky is one of those people who grew up on and around motorcycles. Not only are both of her parents' bikers, but both sets of her grandparents too, her grandpa still rides his trike over 20,000kms (12,427mi+) every summer with his buds! Her love for bikes runs so deep, she was pretty must be destined to create the life she has now!
Ever since she was a little kid, she's been interested in things that made her go fast, cars, bikes, snowboards, you name it, she'd try it. Growing up on farmland she had a lot of freedom to run around and her dad and his buds always had some kind of hand-me-down danger traps lying around, the first stick-shift car she learned to drive had no rear end and her first 'bike' was a Honda trike, gifted to her on her 3rd birthday.
When she got older snowboarding had taken over so she moved up to Whistler, BC, a small, yet well-known ski and snowboard mountain town. There are rumors she was pro, but she says that she was just really good for being so young and was as sponsored as she could have been before actually getting paid for it. Whistler lasted a few years but she pushed herself just a little too hard and ended up getting really hurt, bad enough that she had to quit and figure out what was next. She decided that earning a degree in Business and Marketing at University in Vancouver was the next step, but she would need a way to get to and from school, that's where motos were re-introduced into her adult life!
The first bike she learned to ride on was her moms 1982 250 Honda Rebel, then she ended up getting a 49CC Honda scooter to play within the meantime, but after she got her moto license she
bought herself a 1986 Suzuki GS 450, which she says was a POS she had to bump start anytime she wanted to ride it. After that, she bought a 1976 Yamaha XT500, the perfect bike to rip around Vancouver, and since they are pretty popular there it's easy to find parts and friends knew how to work on them.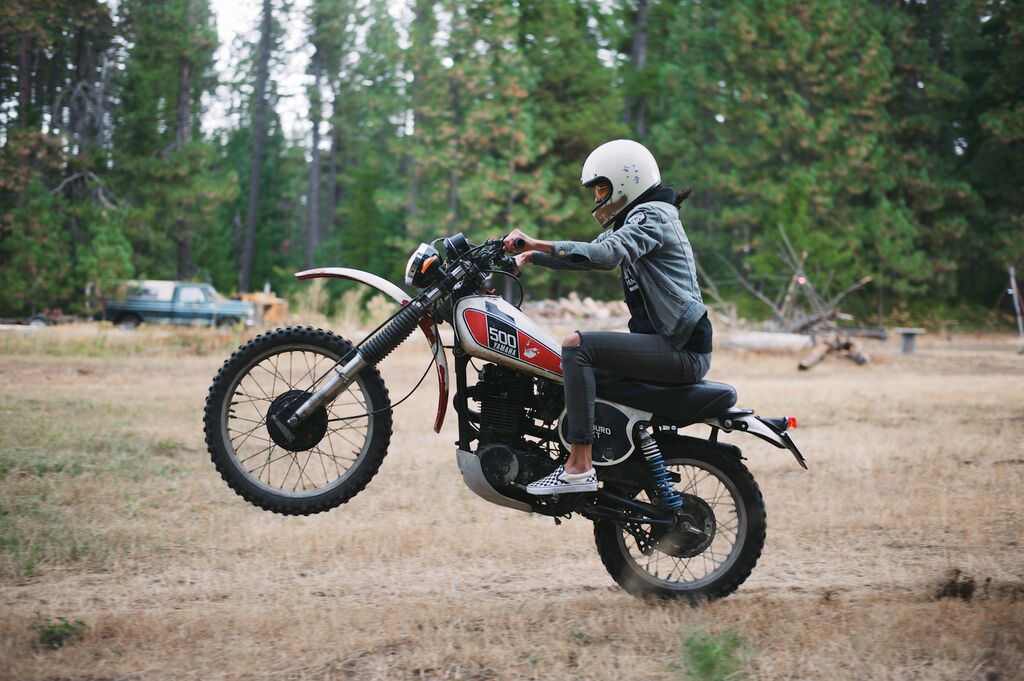 When she graduated university her dad bought her her first Harley, a '07 883 Sportster. She rode that thing to LA and we rode to Mexico and back, but she decided she needed something that suited her a little better so she sold that and got a really cool, totally custom '97 Sportster chopper. She rode that thing all over the place including to LA and back down to Mexico again, if you can't tell, it's a trip she and I have done many times!
Now that you have a little background on who she is and how she got here, I asked her a few fun questions so you can get a little taste of her personality and hear some of her fun stories!
Being a well-known female in the motorcycle world I'm sure you get tons of DMS asking for advice for new riders, what do you tell those people?
I tell everyone to take a riding course. There are lots of different kinds of riding schools out there where they let you ride all sorts of different bikes. You can also get your license in the process so it's worth the money. There are so many things you might think you know about riding in the city, in groups, on the highway, and around other people but until you're in those messy situations, you never really know the reality of what can happen on the road. Those courses really show you the risks associated with riding, especially because getting your motorcycle license in the states is pretty much a joke and doesn't teach you anything about what motorcycle riding is really like.
Motorcycles have always had a place in your life but what other doors have opened because of them?
My whole career has opened up because of motorcycles. I travel the world to write articles for motorcycle magazines, I have got to ride tons of brand new bikes because of commercials, I have met all sorts of people from working on the set of TV shows, I've been able to grow a social following because of bikes and that allows me to host events and pretty much run an entire business marketing brands products and even selling some of my own. I even was on an episode of RIDE with Norman Reedus in Uruguay last year because of Instagram and just always being out riding bikes. It's been a pretty crazy couple of years and this is just scratching the surface of some of the shit I've got to do because of motorcycles.
You have had a few different types/ styles of bikes, what kind of vibe/ mood does each invoke when being ridden?
Choppers: I'M COOLER THAN EVERYONE ON EARTH
Baggers: I'M OLD BUT COMFY
Scooters: I'M LAME AND POOR BUT HAVING SO MUCH FUN
Stock Harleys: SAD AND WISH I WAS COOLER
Dirt Bikes: FEAR/PAIN
You take a lot of solo trips, tell us one of your favorite stories.
Last month I rode my 608 lbs, 1993 FXR bagger, with the big touring fearing on it 2,000+ miles from LA to Utah and all-around touring the Red Rocks and National Parks. I took this little desolate highway from Hanksville, UT down to Mexican Hat that I had scoped out on Google Maps. I rode for hours without gas or food and was pretty shocked how in-the-middle-of-nowhere I was for a long ass time. Only 5 miles from Mexican Hat I got to a switch-back pass that would drop me into a town with food and gas. At the top, there was a sign that said "Gravel – Next 5 miles". I got off my full-loaded heavy ass FXR in the 100-degree heat and peeked over the edge of the cliffside only to see that I was literally 5 miles in the sky with a steep dirt path down. There was no other way down unless I rode a few extra hours, which I didn't have the gas for. I pretty much just turned my bike off and skidded down the bumpy rocky road for about an hour. I had to stay on the edge of the road and was only about 3 feet from the cliff the whole way down. I still can't believe I didn't drop my bike or start crying at any point.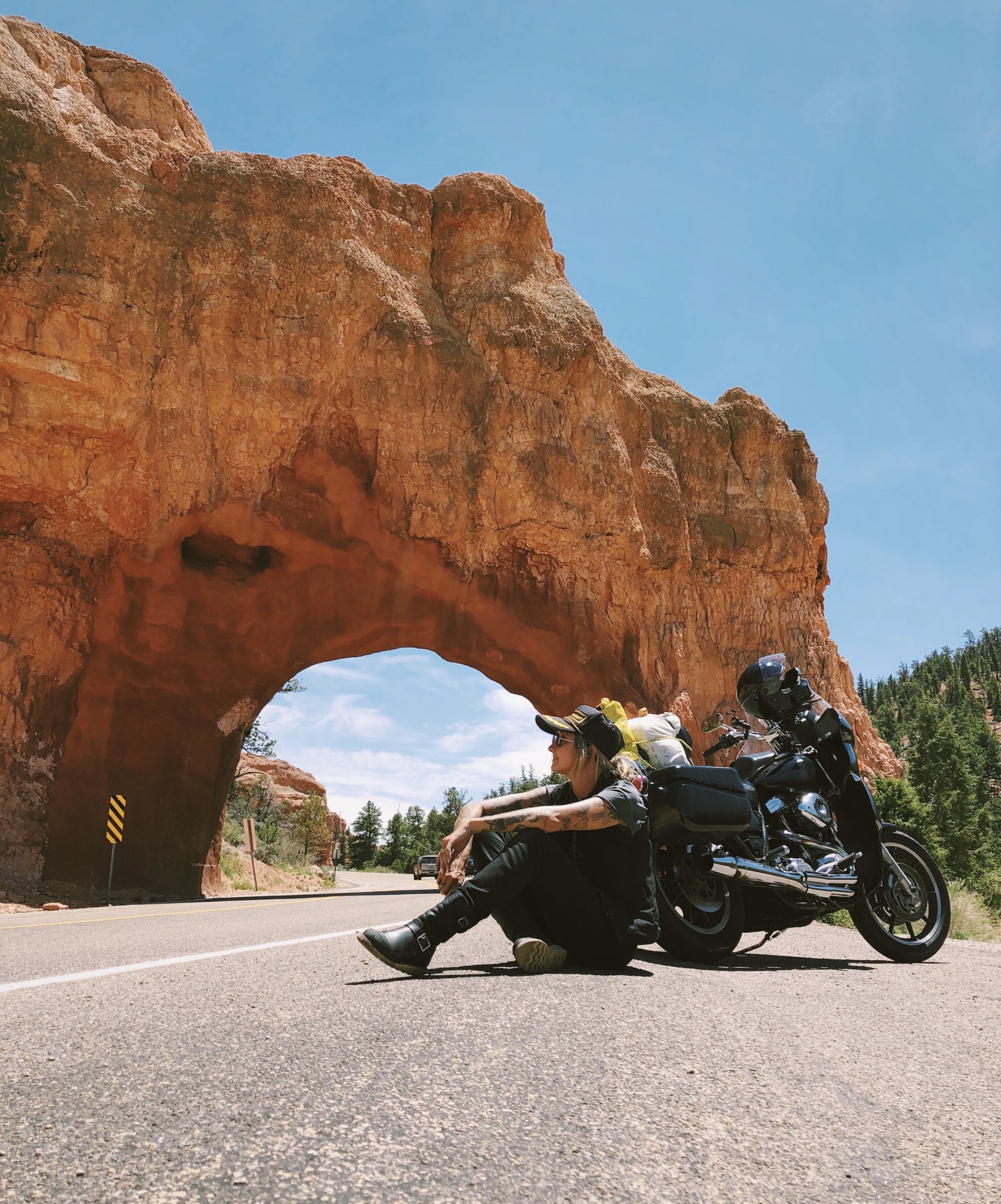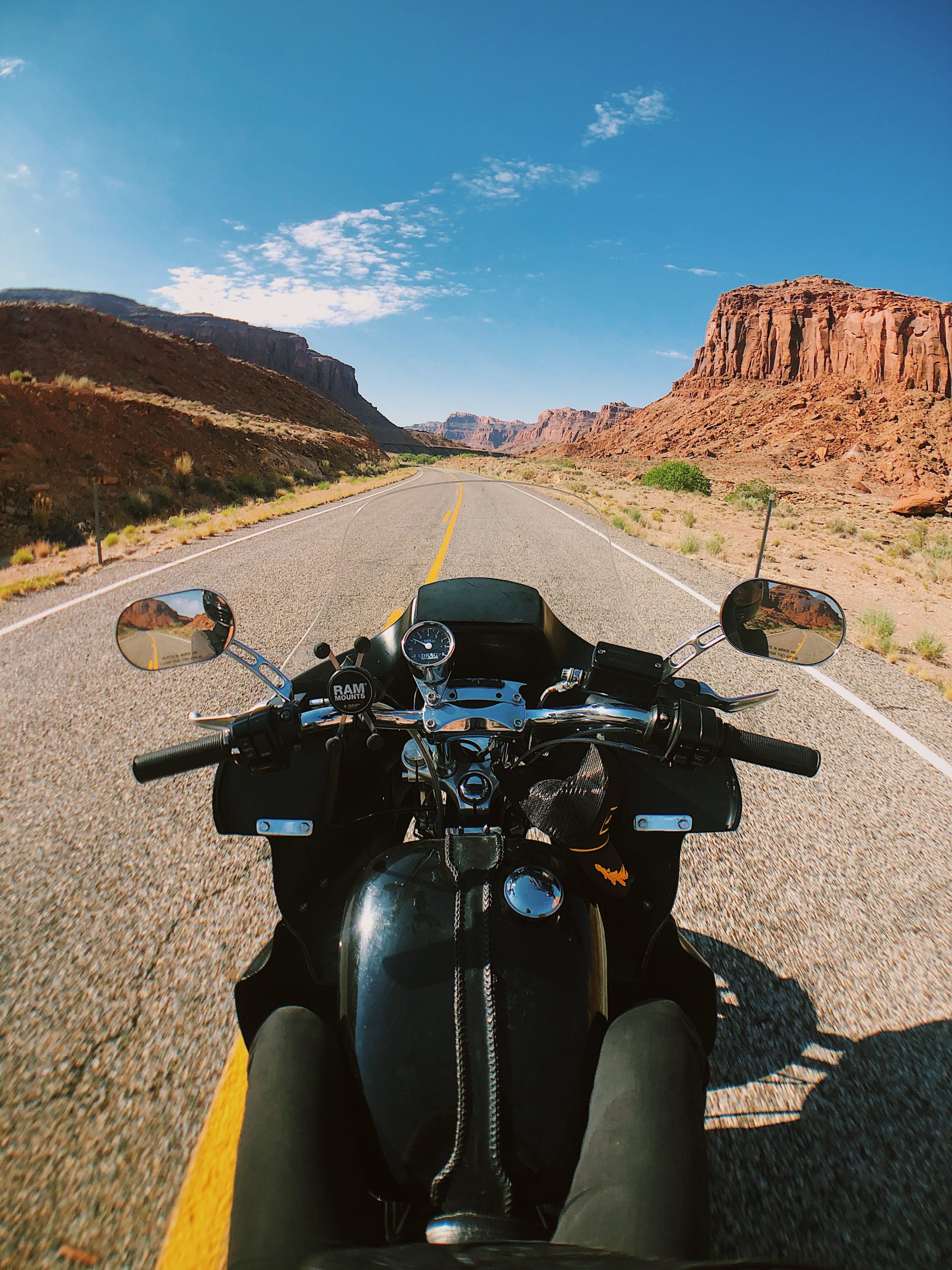 How did Dream Roll come to life and how did you choose the name, were there any other contenders?
The Dream Roll was just an idea to get women who ride to come together in the Pacific North West. I had met Lana MacNaughton from @womensmotoexhibit at one of her photos exhibits up in Vancouver and we hit it off. We decided we should organize a Women's-Only event together and The Dream Roll just kind of came to life! The name was just randomly chosen from a list of other names we pulled out of our asses. It really is a Roll of Dreams though – almost 1000 women riding through the forest to one of our venues that we always make sure is in the middle of absolutely nowhere! It's a Dream 100%.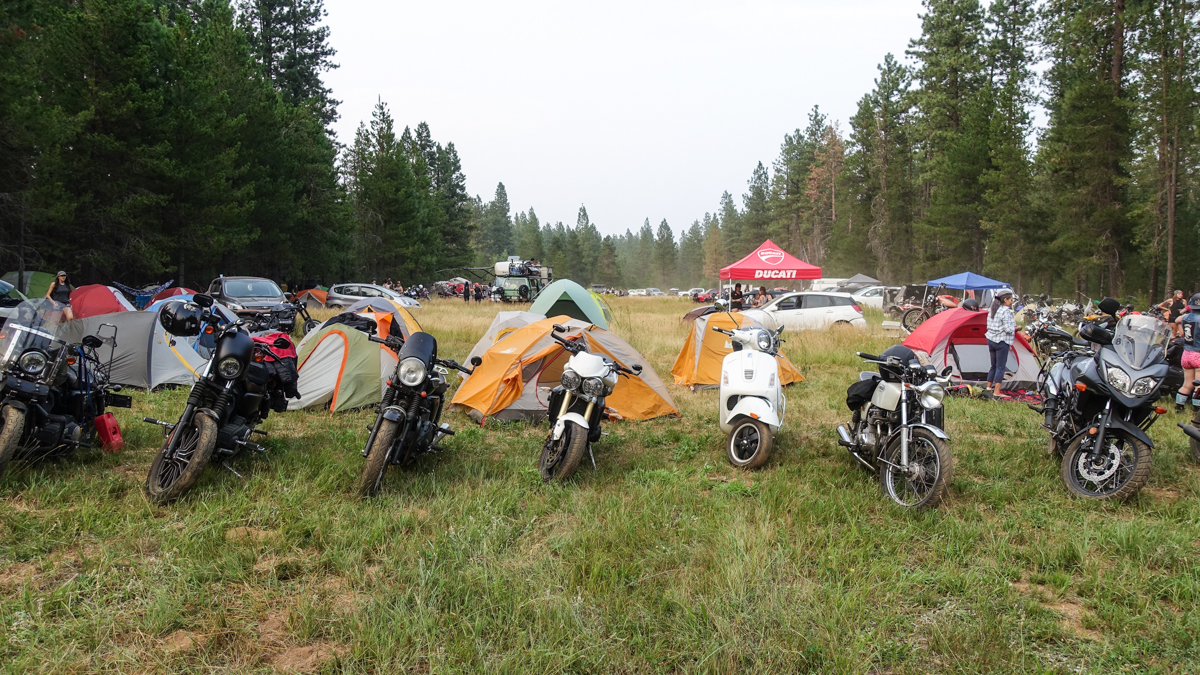 How did Loserpalooza come to life? Why did you want to put together this show?
LOSERPALOOZA came to life because I had access to a really cool venue for cheap. I wanted to just throw a party in Vancouver. Vancouver is a really strict city, especially when it comes to motorcycles or anything to do with young artsy people who wanna make some noise. I put down all my own cash and took a few (probably illegal) risks with that first event and it paid off like crazy. We had a big 2-story chopper show with almost 30 choppers and vintage bikes from all over Canada and the West Coast. There was also motorcycle, tattoo, and skate art up on the walls, I think there were over 40 artists that the first year. I put the word out – inviting people I knew or just followed on Instagram to come out and people came since there wasn't much else that happened like it in the area. We had a pig roast, a fully stocked bar, 3 tattoo artists working, a DJ who played records, a dance floor, and a full-on party. I've done the event every second year since. The last event was in 2018 and it was in a beautiful 10,000 square-foot waterfront wedding venue right in Vancouver. My next LOSERPALOOZA will happen, I just don't know when or where – but that's kinda the vibe of the event so stay tuned.
What are some of your favorite motorcycle shows or events?
I'm a fan of all the events that are chopper-based and/or woman-run. Some of my favorite events are Mooneyes in Japan, Born Free in California, Paradise Road Show in Palm Springs and Babes Ride Out in Santa Margarita!
Who are a few other moto-women that RBMA readers should pay attention to?
Carle Brenneman @carleb – Carle is an Olympic Snowboard Athlete from Canada who is also a Harley Davidson Rider and one of my long-time best friends.
Melissa Gee @moldiegoldies – Melissa rides a Honda Chopper and makes bikinis by hand as her full-time gig.
Becs Faber @becs.v – A Canadian woman rider who is always helping me out with The Dream Roll and just having fun on her farm in the outskirts of British Columbia.
Kaiela Hobart @kaiela.hobart – A Dream Roll volunteer and rider who just survived 21 days on Naked and Afraid!
What's next for you?
In light of the pandemic, I have been trying to become more self-sufficient and not have to rely on companies or gigs to make my money. I've designed a motorcycle glove, some hats, and teamed up with Dickies for a collab work shirt to sell on my new website www.actuallyitsaxel.com. There will be lots of gear going up on there soon and things continuously changing! I'm focused on that right now as well as a content creation campaign that I am producing with Adri! We do a yearly shoot for a few companies and will be coming out with a lot of cool stuff soon! Stay tuned on all of this through my Instagram!
Now that you love Becky as much as I do, make sure to follow along with her awesome adventures, if you don't already!
@actuallyitsaxel www.actuallyitsaxel.com
Her events:
Russ Brown Motorcycle Attorneys blog subjects are chosen for content interest and do not imply an endorsement. Readers should perform their own investigation into the actions and financial responsibility of any featured organization, product, charity, or non-profit before relying on the accuracy of any claims made.
"If you have been involved in a motorcycle accident, don't let it steal your freedom! Call 1-800-4-BIKERS to learn how an experienced motorcycle accident lawyer can get your bike fixed, money for your medical bills, and compensation for your pain and suffering."