Let's rewind a bit. Tell us about where you're from, what your childhood was like.
I grew up in a rural area called Bayou George which is in the panhandle of Florida, and yes, it's as glamourous as it sounds. I typically tell people I am from Panama City FL, as 0 people have a clue about the Bayou's whereabouts. Our pets consisted of anything stray that wandered up in our yard and our imaginations and our home on 4 acres was our sanctuary. I was always reading and excelled in creative writing which meant I was a super nerd. I had a lot of drive even as a child and realized, thanks to my mom, I had the power to be and become whatever I wanted as long as I worked hard and didn't let a few failures stand in my way (shout out Robin). I watched my mom work her way from a manual laborer at the papermill and putting herself through college to become the CEO of a bank. I credit her for a lot of my "scrub the toilets if its what needs to be done" mentality. You can still find me picking up cigarette butts and trash at all Babes Ride Out / Babes in the Dirt events because of this (side note to those who litter, I am going to catch you one day).
Who did you idolize as a kid? Movie characters, musicians, actors?
We didn't have cable or have the desire to watch movies growing up. I honestly don't recall being excited about TV or things like that. My mom was a very outdoors person and we were lucky enough to have space to explore like kids. She encouraged us to get outside and stay outside which meant bumps, bruises, and many band-aids…sometimes stitches.
Tell us something people probably do not know about you. A fun fact if you will. Maybe it's something that might surprise us.
My superhero strength is I can sleep anywhere or anytime. It's a true gift that I am grateful for as an adult. I can literally lay on the cold cement floor and pass out, test me.

If you did not end up in the career that you are in now, what do you think you would have ended up doing?
Ooo! I love this question! In no particular order:  Immigration lawyer or Environmental lawyer (no one loves paperwork more than I do), dog walker (might still do this, stay tuned), vacation property management in Mammoth Lakes, CA (option for later), National Geographic expedition travel planner for the public (YES IT'S A REAL THING!), and finally, tour guide for kids at SpaceX (does that exist? If so, Elon, dial me!)
Ok, ok motorcycles. How did Motorcycling enter your life?
I'll sum it up in two sentences so I don't bore whoever is reading this: I was living in Encinitas, CA and some of my guy friends were getting bikes and I thought I'd give it a shot. I signed up for an MSF class and the rest is history.
Before you started riding, did you have any preconceived notions about motorcycles or the riding community?
I know it sounds crazy but not at all. The term "biker" was foreign to me and I never had any preconceived notions on what being a rider meant or should look like. I didn't know a riding community existed when I got my license outside of the few people I saw scootin' down the coast. To me, it was like buying a car and I wasn't in a Subaru club or community so I didn't give it a 2nd thought until my guy friends bailed on motorcycles and I was riding alone. I wanted to meet others to ride with and luckily, I met you (Anya!).
How has your love and passion for two wheels evolved over time and morphed into wherever it is today?
I've had to make it a priority now that I have an infant to take care of on top of managing my workload. Luckily, I have one hell of a husband, incredible friends, and the realization that it's important for me to ride in order to be myself. Sometimes that's street, sometimes its dirt. I'll take what I can get these days and appreciate every single mile no matter the terrain.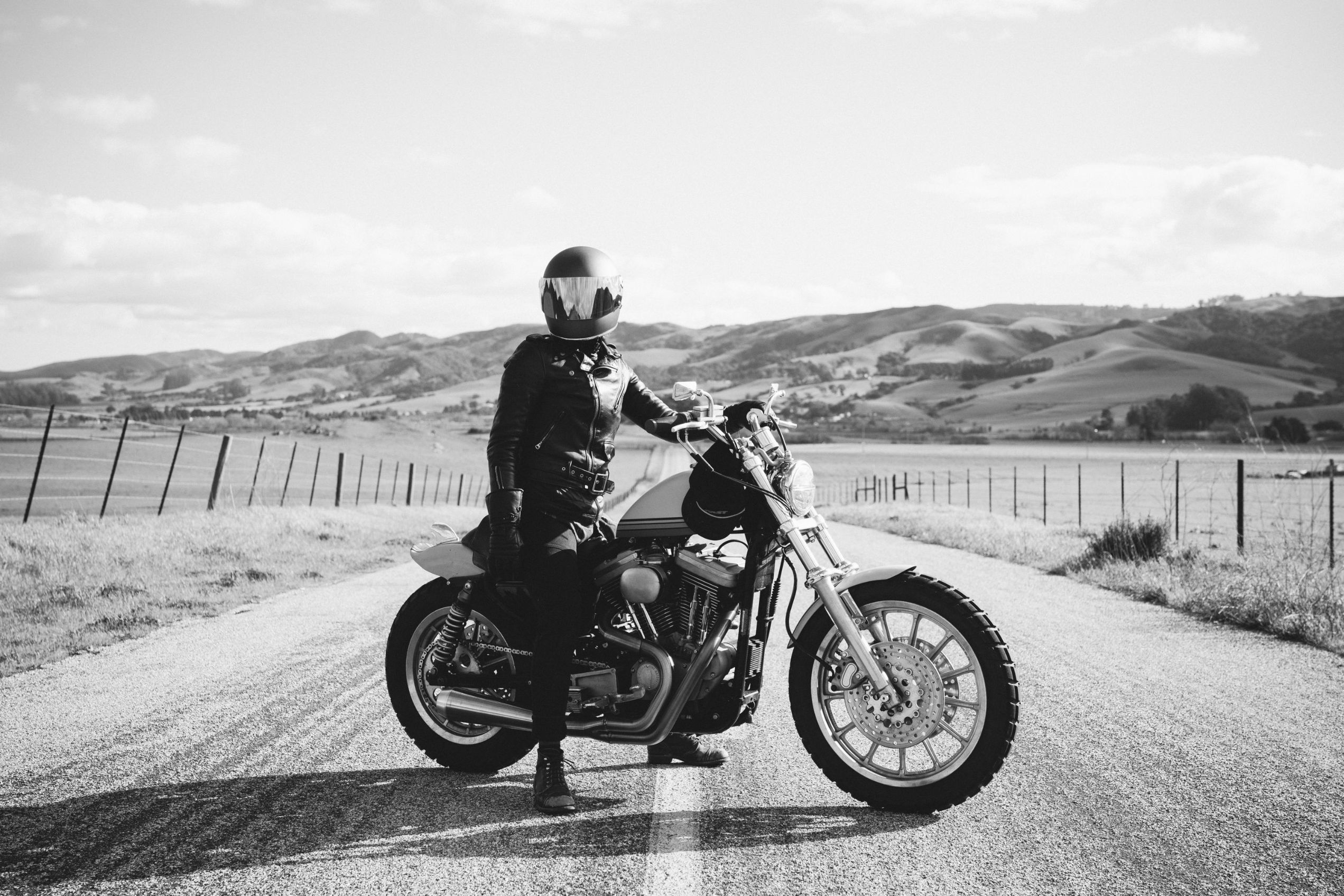 What have riding motorcycles taught you about yourself?
On the harder rides, it's taught me to suck it up and get through whatever current hell I am facing because there is never an option to give up or quit. You have to move forward and push through the discomfort. On the picture-perfect rides, it reminds me of how fortunate I am to be able to experience life like this.
Has becoming a mom shifted your perspective on motorcycling at all?
It hasn't, however, before I had my daughter, I wasn't sure how I would feel about motorcycling. As moms often do, we all have terrible thoughts of what could happen but I knew I needed to get back on my bike as soon as I healed to ease those nagging thoughts. Once I started the engine and put a few miles down, it was like I never left. It actually felt like coming home in a sense, a return to "me". I have and always will be a cautious rider that knows my own limits and capabilities so you won't find me grinding my footpegs around the side of a mountain (ever) but I do say a prayer for protection before I ride and a prayer of gratitude when I return to give thanks and recognition to the gravity of it all.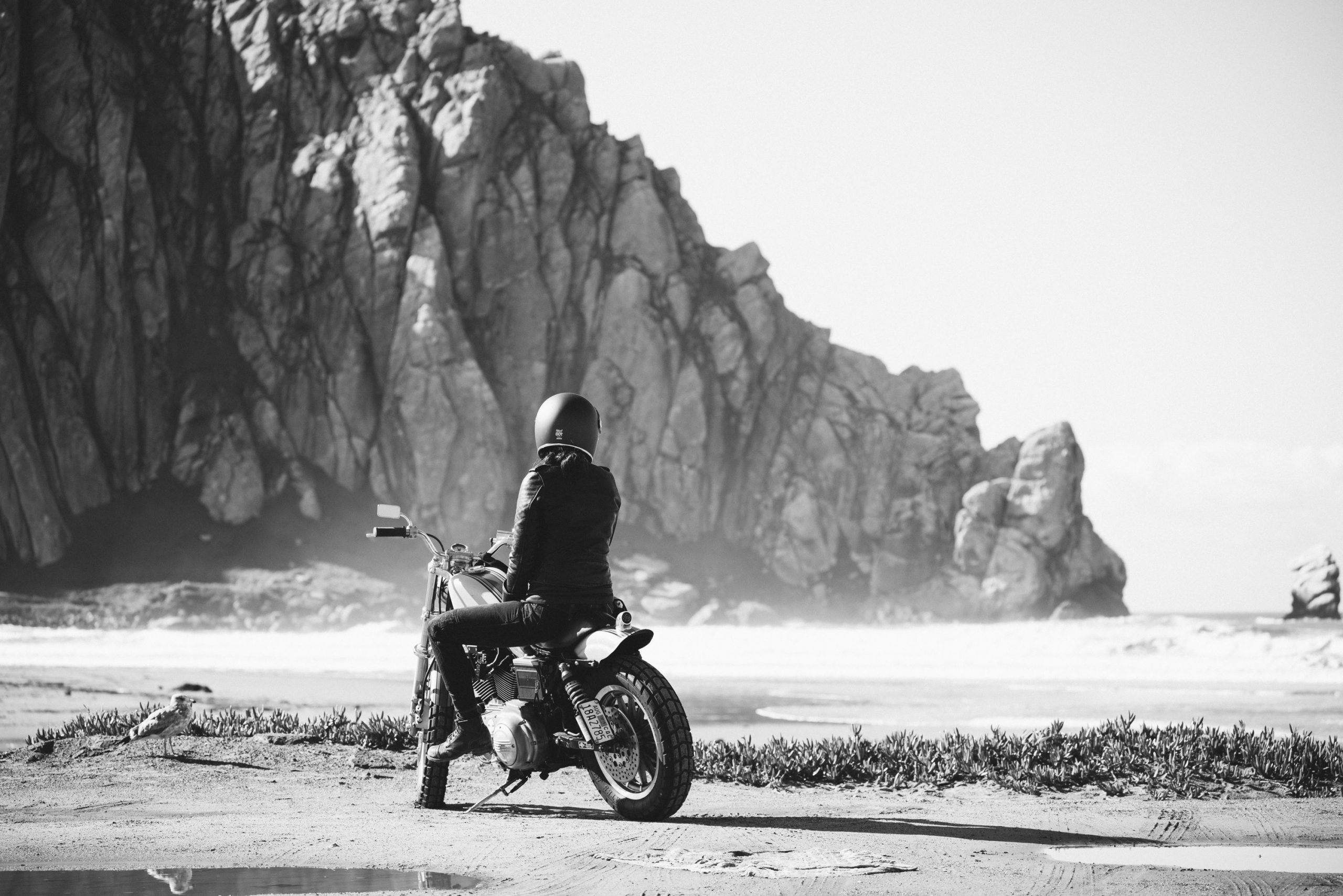 Give us your highest highs and lowest lows on two wheels.
Highs: Crossing the border in Mexico and flying down the desert on the El Diablo Run with friends. Nothing is like it & I can't wait for EDR 2021. Literally going to any event or show to just hangout. I love it and appreciate everyone who puts in the endless hours of work to create a space for us to see old friends and make new ones within the two-wheel community. Lows: Coming out of the Tetons during the first snow of the year and freezing my ass off for hours. Corinne was with me and we both wanted to kill Mike (my husband) for no reason other than we blamed him for the absurd weather. Also, shooting an 805 thing for Babes Ride Out when it was 38 degrees while 2 months pregnant (no one knew but me) riding & manhandling a 550-pound bike all day while internally wanting to D I E from the morning sickness which I might add last ALL DAY, freezing cold literally, and lack of energy. BUT I DID IT!!! Shout out Troy and Collin for my maternity photos even though they didn't know they were shooting them ?
What has running Babes Ride Out, Babes in the Dirt, and Stake Out Events taught you about people?
Humans are amazing. I've met some of the most incredible, inspiring, loving, and helpful people on this planet through event production. I've also met a handful of total psychos which have also brought me great joy! My fav psycho was a woman I met at Sierra Stake Out who was so drunk, she couldn't read the schedule of events and went off on me that she missed the "shitty" tattoo contest, how it was all my fault, and the event totally sucked now. I asked her to hold on one sec while I got a manager and walked off never to return. My friend Bo had to listen to her spiral for another 10 minutes while I watched from behind a tree. He loved it, I loved it, and I still smile thinking of her. Side note, I understand I am here for anyone to voice their issues but just don't do it after you've had a gallon of Sailor Jerry and are breathing straight fire in between a slur of words I can't understand. Thank you in advance <3
Why do you think women's only events are important to the world currently?
These ladies' events diversify the motorcycle community.  Their purpose is to bring more riders together in a welcoming environment so they are more active within the culture and build a stronger community overall. The goal is to see women at all the shows, at all the rides & runs, and ripping lefts at all the races and its happening.
What is your least favorite misconception people have about the events, you host?
I've only gotten this a few times but those who asked if Babes Ride Out or Babes in the Dirt is a giant pillow fight. In their mind it's hilarious and a great ice breaker, but to me, I assume they are a total moron who just can't hold in their inner douche.
What would you say to someone who is thinking about getting into motorcycling?
Be realistic. Are you willing to take the safety class? Are you financially able to properly maintain the machine? Can you afford health insurance that covers not only accidents but physical therapy, additional expenses like wheelchairs, etc.? Are you willing to put the time and energy into becoming a better rider? If the answer is YES to all of the above, I'd say it's a good start. Consider all the pros, cons, and understand it's not something you'll be badass at overnight. It takes years of practice and thousands of miles to get to a place of barely knowing what you are doing.
What is your favorite flavor of ice cream?
Mint chocolate chip
All photos by Colin Nearman @colin_nearman | colinnearman.com for 805 Beer @805beer | 805beer.com
Follow Ashmore's journey & Babes Ride Out on Instagram!
"If you have been involved in a motorcycle accident, don't let it steal your freedom! Call 1-800-4-BIKERS to learn how an experienced motorcycle accident lawyer can get your bike fixed, money for your medical bills, and compensation for your pain and suffering."