Mizziel (pronounced my-shell) Serra is an inspiring motorcycle stunt woman. Her passion for two wheels started when she was young and introduced to the fictional character Lara Croft, played by Angelina Jolie in Lara Croft: Tomb Raider. Mizziel wanted to travel the world and ride motorcycles just like the movie personality did. With that, it seems her desires have manifested into a reality as she makes a living from stunting motorcycles in the movie industry. Whether Mizziel is popping wheelies, skydiving or breaking motorcycle land speed records, she owes her success to hard work and maintaining a positive mindset. Above all, her genuine character consistently encourages people to chase their dreams and find their passion in life.
Watch the Full Interview on YouTube
RBMA: How did your passion for motorcycles start?
Serra: It's a long journey back, but I've always loved motorcycles, anything on two wheels when I was little. I loved bicycles. I was super excited to get off the training wheels. I learned fairly quickly how to balance on two wheels. And then I discovered Lara Croft. She was my idol. I loved Angelina Jolie and her playing Lara Croft's character because I used to play the games with my brother. And I just love that she was very independent, travels the world, rides motorcycles, and speaks different languages. I kind of molded my life around her or wanted to when I was younger, but I didn't really have any of the resources. And then I met a boy who rides motorcycles, and he also raced. So, he offered to teach me to ride.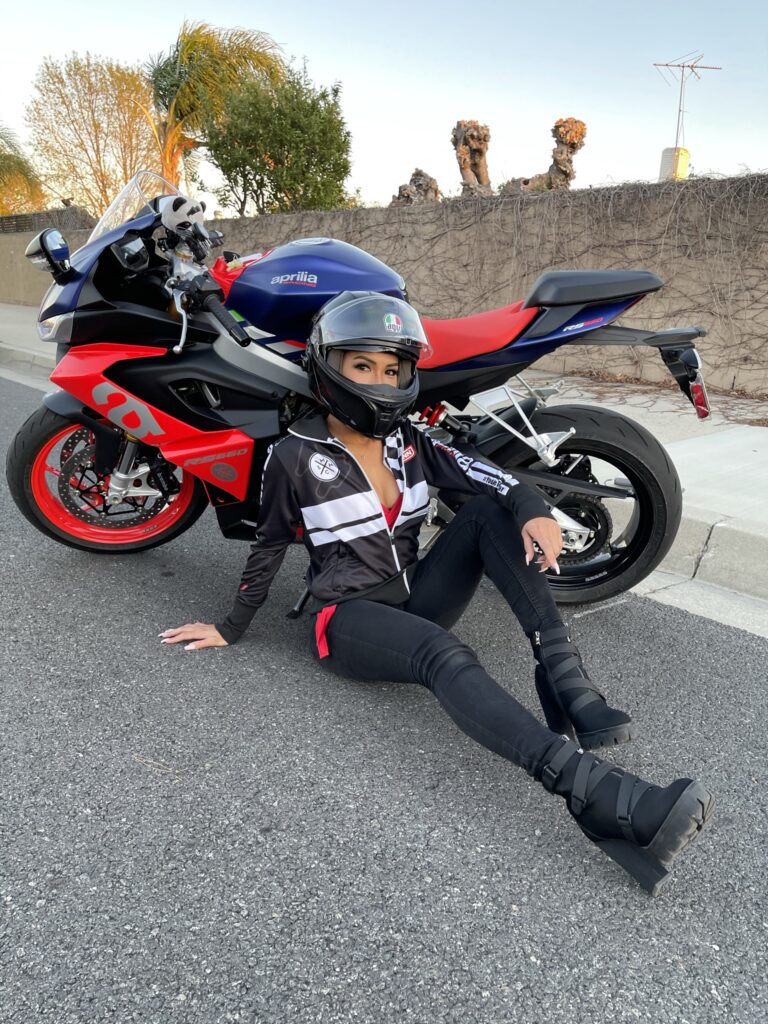 RBMA: Being an adrenaline junkie who is a stunt woman in the film industry, where and how did you learn your skills on a motorcycle? 
Serra: I had a really good mentor. The guy who taught me also raced and was a coach. So he made me read books, watch YouTube videos, and watch old DVDs of motorcycle techniques. Personally, when I'm into some type of passion or subject, I really immerse myself in that subject so I can be well versed and get good at it. They call me the Jack of all trades and master at none. I don't need to be a complete master, but I want to get very good at all these different skills. For me, I think motorcycles is my biggest strength out of all my hobbies.
I did practice a lot because I started on dirt bikes, which I think is really, really important for anybody who wants to get really good at riding motorcycles because riding dirt really hones your skills and techniques.
RBMA: You love to travel the world with your job and in your personal life. Where is your bucket list spot to go on a motorcycle adventure and what bike are you riding?
Serra: Oh, that's a really good question. I've been to Italy before, and I love it out there. The motorcycle community is very big, but there's specifically a place in Italy called the Stelvio Pass. It's beautiful. It's every rider's dream! It has a really famous twisty pass in the Alps and there are around 48 hairpin turns. It's about 30 miles, and it's beautiful. I would probably want to do it on my Aprilia because it's Italian. It just seems right. I really do love my Aprilia 660. It's such a smooth bike to ride overall. If I do get tired, there's cruise control.
I really love traveling the world and riding on two [wheels]. For my second choice, I would love to be on a BMW GS of some sort or maybe a Royal Enfield Himalaya because I've ridden one through the Himalayan Mountains ironically. Wow, that bike is amazing! It is absolutely incredible. It went through dirt, rocks, rivers, and anything you could possibly imagine. It even went through the highest motorable pass, which is 18,000 feet, and you need oxygen to ride up there, and the bike had no problems at all. I never knew about Royal Enfields until I rode it and I was very impressed with it. But I would like to also ride in New Zealand, Portugal, Tibet, or anywhere!
RBMA: Let's talk about your goal of breaking the current land speed record on a Turbocharged Streamliner Motorcycle. What stemmed this ambition?
Serra: I got the opportunity by this very sweet man named Kenny Lyon. He randomly found me on Facebook or through some type of social media and asked if I wanted to race this Streamliner. He asked, "Would you want to set a land speed record?" I said, "Hell yeah. Why not?" I would not say no to that. We actually went for two years straight to Bonneville salt flats. And I did end up setting two land speed records.
[With the Streamliner], we didn't pass tech because a month prior to that, there was a man who passed away because his roll cage wasn't thick enough. The rule before was that the requirements were half an inch thick for the roll cage. Ours was half an inch and would have totally passed. But then they changed the rule to three-quarters of an inch. So when we went to tech, they're like, "You can't ride this because it doesn't pass tech." We weren't able to race that [Streamliner]. I raced this other one and it was another Honda Goldwing with a sidecar. I set land speed records on that, and that was cool!
RBMA: What has been your favorite motorcycle you have stunted with and why?
Serra: I would have to say, hands down, my Supermoto. I have a little CRF 150R big-wheel. Supermotos are my favorite type of bike because you can take them on and off asphalt. If you want to go on trails, you can go exploring. I really love the idea of versatility. A Supermoto, and mine specifically, is really fun. They're really nimble. And you could just toss them around. You could stunt them pretty easily.
RBMA: What's some advice you would give someone interested in becoming a stunt motorcycle actor?
Serra: Just like with any type of skill, practice, practice, practice, practice! Practice getting seat time and getting comfortable with the bike. I would also say get to know the stunt industry. I'm still learning every day and meeting all these different people. Hollywood can be very harsh, so you have to grow tough skin, be likeable, and be genuine. Genuinity goes a long way. Get to know people, network and not being afraid to ask questions and not being afraid to take control of a situation when you have to.
RBMA: What are your tips on keeping calm and collected while stunting in front of cameras and people?  
Serra: If you get so good at something, it becomes second nature, and you won't really get as nervous because you would've built up that self-confidence. But if you don't have those skills yet, you just got to be able to go with the flow.
You want to be focused, calm, and collected and then just be able to go with the flow and be open to that because a lot of people are afraid of change. So when something's different and they change something up on set, and you're like, "oh my gosh, this isn't what I was told to do." But, anything goes here [on a movie set].
So just be very open-minded. And I also like to put myself purposely in stressful situations and environments. For example, I'll jump out of planes by myself. I got my skydiving license. I do scarier stuff, so it just becomes a norm.
RBMA: What motivates you the most to continue inspiring riders, especially women to ride a motorcycle?
Serra: I just love teaching! I feel fulfilled when I help others and I feel like I'm inspiring others because it gives you a purpose in life. We are always struggling to find our purpose and what we're here to do. So while I still don't fully understand what mine is, I know that I still feel very grateful and happy when I'm helping others. That's why I do share a lot of things that I do on social media. I'm also a really big advocate of female riders and being able to embrace femininity while also being a badass.
RBMA: Any last words you want to say that you think people would want to hear?
Serra: A lot of the questions that I get on social media are, "How did you get into this? How are you doing what you're doing now? How do you get out of the whole nine-to-five job thing?" People see that I'm always doing different things, like traveling and doing whatever, but it does take work. Don't be afraid to follow your passion, like your real passion. I did a lot of schooling and got my degrees and everything, but that was really for my parents. I didn't feel like that was my real, real passion. So it took a rude awakening and traveling for me to realize I want to follow my passion and make it something and make it into a lifestyle where it's meaningful and I do get paid.
If you want to be inspired and learn more about Mizziel, visit her website and follow her journey on Instagram and TikTok. Ride safe and thanks for reading!
"If you have been involved in a motorcycle accident, don't let it steal your freedom! Call 1-800-4-BIKERS to learn how an experienced motorcycle accident lawyer can get your bike fixed, money for your medical bills, and compensation for your pain and suffering."