Motorcycle Only Checkpoints Still a Reality in Many States.
Imagine riding your motorcycle to a benefit and seeing a sign saying "Motorcycles must exit at rest area." Although you've done nothing wrong, and your motorcycle registration and insurance are up to date and current, you will be subject to a random seizure and inspection. You pull into the rest area as instructed and are greeted by LEOs from multiple agencies, including the gang task force. While one group conducts safety inspections the gang task force uses the opportunity to take pictures and document every motorcycle stopped. Very few citations are issued relative to the number of bikes stopped. Since 2007, similar incidents have happened all over America. And now, you too have just experienced a motorcycle-only checkpoint, or MOC.

History of Motorcycle-Only Checkpoints
Most date the birth of MOC's as 2007 as a way to crackdown on motorcyclists in New York. In April of 2006, New York State Police Trooper Craig J. Todeschini attempted to chase down a reckless speeder on a motorcycle and lost control of his SUV. He died after he struck a tree.

"Response to this incident by the NYSP, which was widely acknowledged in law enforcement circles and elsewhere as categorical retaliation against motorcyclists, was fairly prompt. Less than a year and a half after Todeschini's death, the country's first-ever motorcycle-only checkpoint – named "Operation 5060" in the memory and honor of Todeschini's badge number – was conducted on I-84 in East Fishkill, New York by the NYSP and led by then- Sergeant J. Halvorsen. This operation was a pilot – a blueprint for things to come." 1
After 2007, motorcycle-only checkpoints began appearing in other states. New York was so proud of this scheme "that they went touring the country showing law enforcement agencies around the nation how to do it." This strategy was an easy sell as it amounted to huge wins for both the law enforcement agencies and the municipalities. Police ran the checkpoints on overtime and the feds footed the bill so the municipality didn't pay for any of it. 2

Response From Motorcyclists- State and Federal Legislation
The motorcycle rights movement immediately began to mobilize at the state and federal level after news of MOC's started to spread. There were incidents in other states like Georgia and Florida and many states acted proactively. As of 2016, Texas, California, Louisiana, Maryland and 15 other states ban MOC's, some through legislation and some through judicial proceedings. 3
Meanwhile, both the American Motorcyclist Association and the Motorcycle Riders Foundation pursued legislation at the federal level. "After eight years, Congress finally banned the use of federal funds for motorcycle only checkpoints on December 3, 2015. The ban was part of a $305 billion highway bill called Fixing America's Surface Transportation (or FAST) Act." 4

MOC's Still Occurring in Some States
Despite what many believe, the battle over motorcycle-only checkpoints is not over. Although Congress banned federal funding for motorcycle-only checkpoints in the 2015 Fast Act, these discriminatory stops continue in some states without federal assistance.
For example, on November 6, 2016 Suffolk County Police Highway Patrol Bureau officers, New York State Police troopers and MTA Police officers conducted motorcycle safety checkpoints on eastbound Sunrise Highway at exit 55 and eastbound Long Island Expressway. 169 motorcycles were stopped and 54 citations were issued. Those cited were independents, not club members.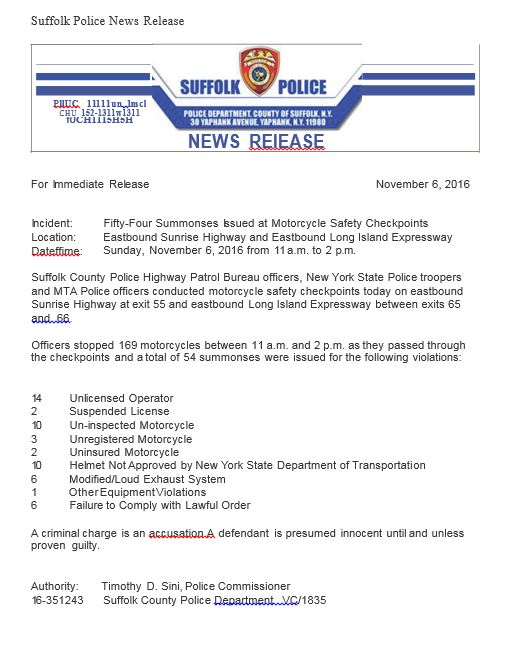 MOC's Are Discriminatory Profiling.
Cloaked under the justification of safety, motorcycle-only checkpoints unfairly target motorcyclists and motorcycles as a form of transportation. According to the AMA, "Motorcycle-only checkpoints are discriminatory, forcing riders and their passengers to do something not asked of other citizens, simply because we choose to travel on two wheels, or three, instead of four. The AMA believes the money used for these operations could be better spent supporting programs that conduct rider education, reduce distracted driving and encourage motorist awareness of motorcycles." 5
Motorcycle-only checkpoints are a strategy used by police to harass and conduct searches of motorcyclists under the pretense of checking for the bikers' compliance with licensing, helmet laws, exhaust emissions and exhaust noise. The stops only applied to motorcyclists.
They are often carried out by so-called special task forces and they are often staged near motorcycle rallies and events to better single out motorcyclists. 6

What's the Solution?
Motorcyclists in states like New York that have not prohibited the practice, should unify and push for a state legislation prohibiting motorcycle profiling including discriminatory motorcycle-only checkpoints. Motorcyclists should not be targeted because of their chosen mode of transportation or based on an outdated biker stereotype. Funds being used to conduct expensive and ineffective MOC's would better be used to enhance motorcycle safety and education.

________________________________________________________________________________
1. NY Motorcycle and Scooter Task Force, All About Motorcycle-Only Checkpoints, https://www.nymstf.org/cas/about- motorcycle-only-checkpoints/
2. Id
3. According to the AMA Western Regional Representative Nick Haris, "Checkpoints already are restricted by state law or judicial action in: Alaska, California, Louisiana, Missouri, North Carolina, Virginia, Illinois, New Hampshire, Idaho, Iowa, [Maryland], Michigan, Minnesota, Oregon, Rhode Island, Texas, Washington, Wisconsin and Wyoming."
4. https://lamothefirm.com/2016/02/03/motorcycle-only-checkpoints-funding-banned/
5. see https://www.americanmotorcyclist.com
6. see Supra Note 4
"If you have been involved in a motorcycle accident, don't let it steal your freedom! Call 1-800-4-BIKERS to learn how an experienced motorcycle accident lawyer can get your bike fixed, money for your medical bills, and compensation for your pain and suffering."