Russ Brown Motorcycle Attorney: Sturgis Buffalo Chip News

The Sturgis Buffalo Chip is often best known for its world-class concerts and amazing entertainment during the Sturgis Motorcycle Rally. When it is not rally time, however, the Sturgis Buffalo Chip Campground has other priorities in the community and this November it's the 4th Annual motorcycle build educational program at Brown High School in Sturgis, South Dakota. The program is sponsored by the Legendary Buffalo Chip and it allows students to custom build a 2012 Harley-Davidson Road King into a one-of-a-kind bike. The completed custom bike will then be auctioned off at the Sturgis Motorcycle Rally during the Legends Ride charity event on Monday, August 5, 2013.
The motorcycle build educational program gives students who participate in the challenge a chance to learn how to conceive, design, and build their own custom bike. Keith Terry of Terry Components and Nick and Randy Kramer of Dakota V-Twin will teach these high school kids incredible hands on skills and valuable knowledge that they can take with them when they graduate.
The last three years, the Student Build Challenge has produced some amazing one-of-a-kind bikes that are simply stunning. This is the only program of its kind in South Dakota and one that the Buffalo Chip is proud to be a part of.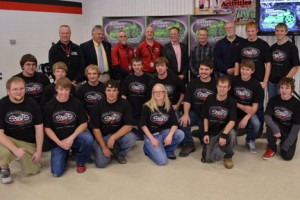 "Working with knowledgeable instructors, world class parts and a like-new Harley, gives these visionary future technicians skills that they can carry forward in life"
–      Rod Woodruff, President of the Sturgis Buffalo Chip
The Student Build Challenge was started in 2009 by Sturgis Buffalo Chip President, Rod Woodruff. He wanted to promote the motorcycle industry and give students a chance to learn valuable technical skills that they could use in the workforce later in life. The bikes these kids create have competed in custom bike shows and have even been featured in national magazines. If you are interested in following the Student Build Challenge, you can do so on the Sturgis Buffalo Chip – Legends Ride Facebook site.
Russ Brown Motorcycle Accident Attorneys are excited to be a part of the Sturgis Motorcycle Rally each year and we love programs that introduce more people to the wonders of motorcycling. No matter where you ride, we want you to arrive safely at your destination. That is why we created BAM, a free roadside and legal assistance program for motorcyclists. Call us today at 1-800-4-BIKERS to learn more about BAM or our law firm. We Ride—We Care—We Win!
Russ Brown Motorcycle Attorneys®
Russ Brown Motorcycle Attorneys® – from Florida to Texas, California to New York, Wisconsin to Pennsylvania, Nevada to Colorado, Georgia to Ohio – we have top motorcycle accident lawyers who will fight for you on the road and in the court room.  If you have been in a motorcycle crash you need a top motorcycle lawyer – call Russ Brown Motorcycle Attorneys® now.
"If you have been involved in a motorcycle accident, don't let it steal your freedom! Call 1-800-4-BIKERS to learn how an experienced motorcycle accident lawyer can get your bike fixed, money for your medical bills, and compensation for your pain and suffering."