Tired of being a passenger, Teresa moved into the driver's seat which I know is something many of you can related to.
Let's meet Teresa as she shares her story.
Name: Teresa Reed
Location: Tuscola, Illinois
Occupation: Factory worker
Current ride: 2010 Dyna Wide Glide
When did you start riding? What got you involved in motorcycles and how did you start?
My parents were in the Slingshot Cycle Club in Tuscola when I was growing up, so I've been a passenger most of my life. I got my bike license in 2000 because I was sick of being a passenger; I needed to be in the driver's seat.
How has riding motorcycles impacted your life?
It's certainly made planning and taking weekend trips more fun. I feel like a see more of the world around me than I ever did in a car. I really love the smells of spring too. You just can't smell those flowering trees inside a cage.
What has been your biggest challenge with riding?
Buying a new bike was a challenge. For some reason certain dealerships just don't even want to talk to a woman who wants to buy a new Harley. Luckily I found a dealership that showed me respect and didn't treat me like I was in idiot just because I was a female.
What do you like most about your model motorcycle?
I think it fits me like a glove. I love everything about it.
What modifications have you made?
I got rid of the Tommy Gun pipes and put on some Python Staggered Duals. Also a race tuner, windshield, backrest and bags all quick release. I took off the passenger seat because my bike is fun for one. I've added the Willie G skull to the shifter, back brake, primary cover, timing chain cover and license plate bolts. I did get a license plate frame with a row of rhinestones on it; a girl's bike should have just a little bling to it.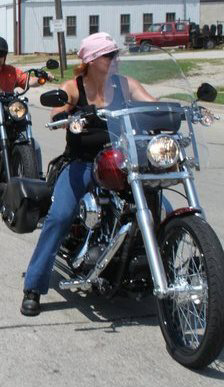 When you're not riding motorcycles what are you other interest?
Gardening, I love to grow flowers.
What advice do you have for other women riders?
It's always a good idea to take a basic riders safety course.  There is no such thing as too much safety training when you are on a bike.
How tall are you? 5"6"
What is your weather like year round?
Hot in the summer, cold and snowy in the winter.
How is riding therapy for you?
It helps me relax, sometimes it helps me find the answer, sometimes it helps me avoid the question.
I must say I have seen an increase in female friendly motorcycles dealerships and it perturbs me to hear that Theresa actually had difficulties throwing down greenbacks at a dealership to purchase her bike. I'm happy she found a dealer that worked out perfect and dialed her in with the perfect bike. Pictures speak louder than words and her smile riding says it all.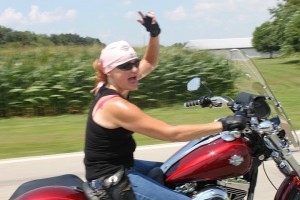 Ride ON!
Brenda Fox
Motorcycle Lawyer Russ Brown – 1-800-4-BIKERS – We Ride We Win We Care
"If you have been involved in a motorcycle accident, don't let it steal your freedom! Call 1-800-4-BIKERS to learn how an experienced motorcycle accident lawyer can get your bike fixed, money for your medical bills, and compensation for your pain and suffering."