Motorcycle Lawyer; Konni mentions how riding reinforces her independence and freedom and clearly she displays that on the bike she created. Here's more about Konni and her homemade custom ride…
Name: Konni Reusser
Location: Theodore, Al
Occupation: Silverships Inc. I build aluminum boats. Work boats, Marine police & fire boats and Military boats.
Currently rides: Yr -2009, Make-Homemade, Model – Cuyon
What got you involved in motorcycles and how did you start?
My father and brother rode bikes for as long as I remember. I started when I was 6 on a little Briggs & Stratten mini bike. We rode the local dirt tracks and trails we made in the woods. I bought my own dirt bike after I moved out. Then later I upgraded to a street bike. 

How has riding motorcycles impacted your life? It reinforces my independence, freedom and besides who wants to be just like everyone else?
What has been your biggest challenge with riding? The alligator head catches wind at times and moves the front end around a little. Dealing with ignorant people who have no respect for your space on the road.
What do you like most about your model motorcycle? It's CRAZY! No really, Cuyon is coon ass French for crazy!
What modifications have you made? I handpicked every part on this bike. Me, my boyfriend Keith Terrell and Freddy Goodman of Fatboyz Choppers in Theodore, Al. built the bike from the ground up. I designed it and picked out the parts. Dakota Digital Speedo, Mikuni carburetor, Excel Forward Controls, Hidden Chrome shocks / softail, Buffalo 12″ Ape Hangers 1 1/4″ bars, on 4″ risers, Chopper gas tank 22″ tunnel, Alligator kickstand, Alligator gas cap, Alligator shifter linkage, 200 rear tire, Avon tire, Bayonet II rims (looks like teeth), Bayonet II rotors, Softail frame rake 34/2, Cyclops headlight that I mounted inside an alligator head. I cut the back to the gator hide to fit and glued it down the tank, cutting a hole for the custom alligator gas cap from thunderbillet.com. I went to New Orleans with headlight in hand and started going from shop to shop for 3 hrs putting in in the mouths of gator heads until (like Cinderella) found the perfect fit. Billet forks with hidden axle, 5 speed tranny, 100 ci ElBrudo By Ultima (engine),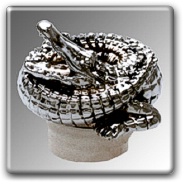 Barrel oil tank, Braided lines throughout, V-Cooler chrome oil cooler, 4 into 1 Hooker Headers (My personal favorite part, loud pipes!), Flip Flop blue/green paint by Kenny Airington Mobile, Al., Custom airbrushing by Insane Air Mobile, Al. * Alligator eye on right side of oil tank, on the left side it reads "strong enough for a man but built for a woman" (gets smiles when they find out it's a chicks bike). Custom seat by Herb Reid Petal. I worked the alligator hide myself and Mr. Reid did an amazing job putting together a custom seat that completed the flow of the alligator look with the tail riding over the rear fender. I wrapped visible wires in alligator hide and stitched with wax string. I made a mini saddle bag out of the hide that sits under the gas tank that holds things the size of a pack of cigs on each side.I bought the hide from Mr. Hudson, a local alligator farm owner in Pascagoula, Ms. It took me a few weeks to work the hide and get it soft enough to make the seat and my trim work.
I took the bike to get titled and was able to name it. The Model is Cuyon (which in coon-ass French means Crazy) the make is homemade, and we titled it in 2009. It took 11 months to build.
My advice to people who want to build their own… put a Harley or any brand name engine in it. Most people cannot afford the insurance on a custom bike. I can only get liability on mine because it's not a recognized manufactured engine.

When you're not riding motorcycles what are you other interest? Kayaking, fishing, I played softball all my life and played women's professional football for 2 yrs. An injury to my knee left me with no hope to play either ever again.
What advice do you have for other women riders? Ladies put your big girl panties on and take charge of your life and do whatever it is you desire to do! Be confident, be a leader.
How tall are you? 5'8"
What is your area like for riding? The weather here is wonderful with short winters and hot summers. South Alabama has great riding weather most all year.
How is riding therapy for you? It solves all my problems like a drug, its temporary until you get back on.
Can't say I've ever ridden a bike with an alligator head or ever even seen one, but I can say it takes a pretty damn cool woman to create, build and ride a bike like this. Props to you Konni for creating your ride and stepping outside the box of saccharine customization.
Ride ON!
Brenda Fox
Russ Brown Motorcycle Attorneys®, helping injured Alabama motorcyclists for over thirty years. We Ride We Care We Win. Call 1-800-424-5377 if you have been in a Alabama motorcycle accident.
"If you have been involved in a motorcycle accident, don't let it steal your freedom! Call 1-800-4-BIKERS to learn how an experienced motorcycle accident lawyer can get your bike fixed, money for your medical bills, and compensation for your pain and suffering."