The Motorcycle Industry owes a lot to Easyriders magazine; they literally opened the door to the world of Harley Davidson and custom Harley choppers, and the biker lifestyle making a loud and raucous cultural statement giving notice to the rest of the world that bikers were here and this what we have to say! Debuting in 1971, Easyriders magazine featured top-notch chopper designs and their builders in full color layouts. In addition to the magazines full-featured layout, the magazine boasted slick one of a kind motorcycle culture color illustrations by Dave Mann, and a no holds bared help and advise column by Miraculous Mutha.
Miraculous Mutha gained rapid appeal with her raunchy biker mama views on everything from sex to dealing with everyday life. Pinned by artist Hal Robinson, Miraculous Mutha took on topics with a biker lifestyle slant that would have made most folks shudder,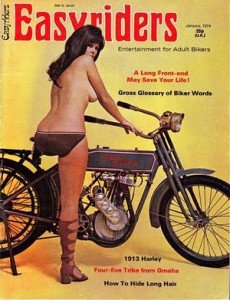 but were well received by those who lived the mostly unaccepted and misunderstood culture; which at it core is based on freedom of expression, and an open attitude of many things considered less than desirable by John Q. Public!
As a teen, I read each issue of Easyriders from cover to cover, dreaming of one day owning an equally hot and totally custom Harley chopper, and while that dream took a while to realize, the biker lifestyle and culture took hold immediately and became part of my evolving viewpoint on the world around me.
What many people from the mainstream part of the world failed to understand about the biker lifestyle is just because we ride motorcycles or live up to your view on life doesn't make us the raping and pillaging rogues depicted in those cheesy Hollywood exploitation films of the 60's and 70's, and this outlook was reinforced in each and every issue of Easyriders magazine until the very late 1980's.

As Harley Davidson choppers and motorcycles in general began to become widely accepted within the mainstream world, the need to exaggerate the position of biker culture became less and less important, while a focus to expose the true artistry of the modern custom Harley builder became the chief concern of Paisano publications.
As the year's pass more and more so called mainstream people have come to enjoy the rich heritage of the Harley Davidson motorcycle and the countless presentations of the custom chopper, the freedom of expression, and the unique lifestyle of the biker culture itself.
Don't let a motorcycle accident rob you of your freedom. Call 1-800-4-BIKERS to discuss your rights as a motorcycle accident victim with a motorcycle accident lawyer who knows the law.
"If you have been involved in a motorcycle accident, don't let it steal your freedom! Call 1-800-4-BIKERS to learn how an experienced motorcycle accident lawyer can get your bike fixed, money for your medical bills, and compensation for your pain and suffering."