Your Michigan Motorcycle Accident Lawyers
Contact Us Today For a Free Consultation!
Motorcycle Accident Attorneys: Russ Brown Motorcycle Attorneys® have been fighting for motorcyclists' rights for decades. We are experts in motorcycle accidents and have carefully chosen local, independent counsel across the country to help guide your claim with free legal advice, even if you do not need an attorney. This can maximize your recovery. If you want justice and compensation for your injury, pain and suffering, call today for your free consultation.
Your Michigan Motorcycle Accident Lawyers
A Michigan motorcycle accident lawyer should be your first call if you are ever involved in a serious incident, whether you have insurance or not. If you possess the right coverage, it may pay for your bike repairs or address some of your losses, but what if there was an unfavorable witness involved, or you lost time from work or had valuable add-on accessories they won't pay for? If you have a personal injury motorcycle-related problem, have suffered serious damage to your bike, or were in the hospital due to a serious accident, you need a professional motorcycle law firm to evaluate your case. You need a local attorney working with a qualified biker law firm, like Russ Brown Motorcycle Attorneys®, who Ride, Care, and WIN. Our knowledgeable team is hand-picked and high achieving. We concentrate solely on motorcycle accidents and our whole practice focuses on personal injury law for riders only.
How can I find the best lawyer for my personal injury motorcycle damages? Call us! Motorcycle accidents and protecting riders has been our business for over 30 years. Call Russ Brown Motorcycle lawyers at 1-800-4-BIKERS to get the top advice you deserve from the original biker lawyers, with more experience than any other firm in the country.
Did anyone mention bike nights? Check out Boomer's Roadhouse in Waterford, MI across from the Oakland County Airport for one of the biggest bike nights in Oakland every Thursday!
Michigan is blessed with over three
thousand
miles of shoreline because it cozies up to four Great Lakes. This makes for some incomparable riding and great recreational opportunities along the way. Couple all that beautiful scenery with mostly level touring, and you have some easy, carefree sightseeing that will leave you inspired but not exhausted. This is just one reason why there are so many registered bikes (and boats!) in the Water Wonderland.
Whether cruising Michigan's scenic shores or crossing the Big Mac or negotiating I-94, you don't always have control over your destiny because of the other drivers on the road. Say you have the bad luck to be in an accident. What if the violation associated with your motorcycle accident was issued to the other party, would you still need a Michigan motorcycle accident lawyer? Would their insurance be forced to pay for your damages?
Actually, letting the insurance company decide what the damages were to your bike and how much they will pay you for them is a bit like letting a fox watch the henhouse. And letting an insurance adjuster decide just how much suffering you went through as a result of your motorcycle accident is risky. Who would know better the traumatic injuries common to a crash or the medical attention which might be necessary after a motorcycle accident than someone who has been there and seen or experienced it already? An attorney who is also a motorcycle enthusiast can recognize elements to your case that others might miss and sympathize with any related injuries.
Our entire practice and our BAM program (Breakdown Assistance for Motorcyclists) are dedicated to protecting riders only. That's 2,000,000 Riders Helping Riders® Nationwide with FREE breakdown & legal assistance. Ask yourself how much a regular personal injury law firm knows about riding, lane splitting, or whatever else the road throws at you. Sometimes a moving violation is required to keep from getting killed. Only a real biker law firm will fight against the insurance company for you in this way. Russ Brown Motorcycle Attorneys® are experienced top notch motorcycle lawyers who ride and have the knowledge to assist you and truly give you the full legal umbrella of care you need after your motorcycle accident.
Michigan Motorcycle Laws 
Daytime use of headlight: Modulating headlights are permitted per Code of Federal Regulations, Title 49, 571.108
Eye protection is required by law unless your motorcycle is equipped with a windscreen. Required if traveling over speeds of 35 mph; MI Vehicle Code 257.708a
Handlebar height is not to exceed 15" above seat; MI Vehicle Code 257.661a
Lane splitting or lane sharing is not authorized

A person operating a motorcycle, moped, low-speed vehicle, electric personal assistive mobility device, or bicycle shall not pass between lines of traffic but may pass on the left of traffic moving in his or her direction in the case of a 2-way street, or on the left or right of traffic in the case of a 1-way street, in an unoccupied lane." (MI Vehicle Code 257.660)

Maximum sound level allowed: A-weighed sound levels as measured from 50 feet (MI Vehicle Code 257.707c)

86dBA at speed over 35 mph
82dBA at a speed less than 35mph
95dBA under stationary run-up test at 75 inches

Muffler required, cut-outs prohibited; MI Vehicle Code 257.707
No passenger age restriction
Passenger footrest and seat required if carrying a passenger; MI Vehicle Code 257.658
One mirror is required by law; MI Vehicle Code 257.708
Motorcycles can operate two abreast at the same time; MI Vehicle Code 257.708
Passenger seat and footrest are required by law if carrying a passenger
Safety helmets are required for all motorcycle operators and passengers under 21 years of age.

Helmets optional for riders at least 21 years of age with at leas $20,000 in first party payable medical benefits, and 2 years riding experience or successful completion of a motorcycle safety course. (MCL 257.658)
*Please check for a full list of up to date Michigan motorcycle laws and regulations here and safety requirements on the Michigan Motorcycle Operator Manual page here.
Looking for the best Michigan Motorcycle
Attorneys near you?

Grand Rapids
800 Monroe Avenue NW
Grand Rapids, MI 49503
We Ride – We Care – We Win!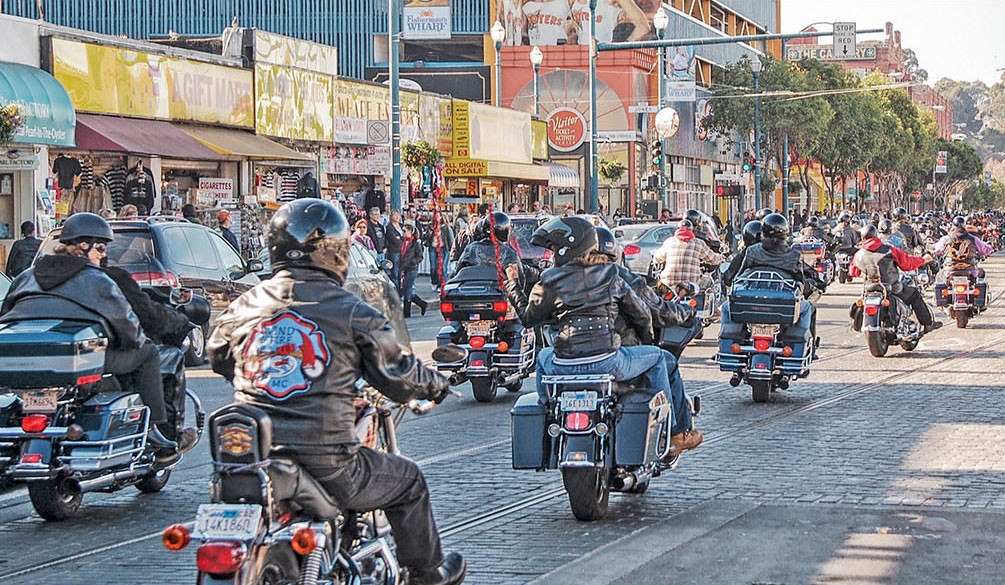 Event Description in California, all riders must wear a D.O.T. certified helmet. The state also requires motorcyclists to have EPA-compliant exhaust systems on their model year 2011 and newer motorcycles.
California motorcycle applicants under 21 years of age are required to complete a Basic Rider Cource before they receive a motorcycle instruction permit. Motorcycle applicants 21 years of age and older are encouraged.