Your South Dakota Motorcycle Accident Lawyers
Contact Us Today For a Free Consultation!
Motorcycle Accident Attorneys: Russ Brown Motorcycle Attorneys® have been fighting for motorcyclists' rights for decades. We are experts in motorcycle accidents and have carefully chosen local, independent counsel across the country to help guide your claim with free legal advice, even if you do not need an attorney. This can maximize your recovery. If you want justice and compensation for your injury, pain and suffering, call today for your free consultation.
Your South Dakota Motorcycle Accident Lawyers
Our South Dakota motorcycle accident attorneys are armed with the specialized experience needed to represent riders just like you. We have been serving the motorcycle community in South Dakota and all of America's motorcycling enthusiasts since 1975. Russ Brown's motorcycle accident lawyers are revered in the courtroom and are riders themselves. As fellow bikers, they take motorcycle-related legal assistance claims very seriously. Each handpicked, experienced motorcycle personal injury lawyer is a part of Russ Brown's BAM program– the largest riders-helping-riders network in the country–which offers free roadside and legal assistance for motorcyclists across the country, 24 hours a day, 7 days a week. If you have been injured in a serious bike crash there's no other number to call: 1-800-4-BIKERS.
The sheer volume of successful cases we handle for injured riders means extra clout with insurance companies, so the true value of your claim can be realized. We have the practical know-how to properly assess the dynamics of your bike accident and can overcome a bad police report or negative witness' account of your collision.  Further, as riders, we can emphasize and know biker law extensively.  A true motorcycle personal injury attorney will battle for you even if the facts of your accident are not a "slam dunk".  This is why our handpicked motorcycle accident lawyer near you in Minnesota can take on cases that other attorneys won't.  Collaboration between experts ensures that the needs of the client always come first and strategy is cutting edge.   You deserve a motorcycle lawyer in Minnesota who will truly fight for you and your motorcycle accident claim; call us at 1-800-4-BIKERS
Anyone that rides knows that South Dakota puts on the biggest motorcycle event in the country: Sturgis Motorcycle Rally. Riders from all 50 states flock to this motorcycle mecca. For the first ten days of August, this otherwise small town is busting at the seams with over half a million riders celebrating the biker lifestyle. Its no wonder the popularity of this great event grew so much, as the riding in the Black Hills surrounding Sturgis is incredible, and a true testament to the dramatic natural beauty of this part of the American Mid-west.  There's no way to describe the feeling you get walking the historic main street in Deadwood, or the pride you feel as you ride your bike at Mount Rushmore. The serenity of Spearfish, Hill City and the neighboring towns will never cease to amaze you. South Dakota is true motorcycle country with symbols of freedom everywhere you ride. Many riders find themselves far from home when riding in South Dakota but with a BAM card in your wallet you get the help and backing of Russ Brown Motorcycle Attorneys® and 2 million volunteer members.  Whether you need legal advice after a motorcycle accident or you're bike won't start, 1-800-4-BIKERS is your best resource for friendly and caring help.
Russ Brown, the founder of Russ Brown Motorcycle Attorneys® and BAM Program, was recognized for his lifelong dedication to the motorcycle community when he was inducted into the Sturgis Hall of Fame in 2013: the first motorcycle attorney to receive such an honor. Russ Brown Motorcycle Attorney's nationwide network follows the same moral code and precedent of devotion to the rights of the riding community. Handpicked for their legal skill and success, our South Dakota personal injury attorneys are among the finest, and have the added resource of all the other great legal minds in our network, including Russ & his partners, Chuck Koro & Jim Romag.  If you should ever need the guidance or counsel of our attorney team, we are just a free phone call away. We are well-versed in the complexities of motorcycle accidents: from helping our clients receive the very best medical care to fighting the toughest of insurance company stonewalls, we know it all.
If you are in a motorcycle accident during the Sturgis Motorcycle Rally, call 1-800-4-BIKERS to speak to one of our South Dakota motorcycle injury attorneys. Our reputation for fighting the toughest cases is well known by our adversaries. At-fault issues, bad police reports, unfavorable witnesses—we have seen and know how to deal with each hurdle. Our personal injury attorneys know how to get you the compensation you deserve for bike damage and repair, medical expenses, lost wages and pain and suffering. Because of our expertise, we know it is possible to pursue non-traditional claims as well, such as for tattoo repairs due to road rash.  You can ride with confidence knowing we will take care of you and your bike if the worst should happen.
South Dakota is home to some of the most beautiful motorcycle rides across the nation! The Black Hills offer scenic beauty that is one of a kind. If you ever get to Sturgis, you'll kick yourself if you did not bring your motorcycle. We would like to remind all riders enjoying the awesome routes of South Dakota to do so safely and abide by all motorcycle traffic laws
Protective DOT Helmet required by law for any operator/passenger under the age of 18; S.D. 32-20-4
Use of Headlight with a modulating function is permitted during the day ( Code of Federal Regulations, Title 49, 571.108)
Eye Protection is required by law unless equipped with windscreen; S.D. 32-20-4.1
Handlebar Height is restricted in South Dakota to below the shoulder height of the motorcycle operator ; S.D. 32-20-3
Only one mirror is required by law; S.D. 32-15-8
While Lane Splitting/Sharing is prohibited (S.D. 32-20-9.2, S.D. 32-20-9.3) Motorcycle as permitted to operate two abreast in the same lane (S.D. 32-20-9.5)
Muffler Required on all motorcycles however, cut-outs are prohibited; S.D. 32-15-17
No passenger age restriction in South Dakota; however, you are required to have a passenger seat and footrest if you're carrying a passenger S.D. 32-20-6.1
South Dakota State Insurance Requirements are set at a compulsory liability minimum of 25/50/25
Turn Signals are not required, hand gestures are always advised; SD 32-15-13
*ALWAYS CHECK YOUR LOCAL DMV PAGE FOR THE MOST UP TO DATE MOTORCYCLE SAFETY LAWS* 
Come see us in Sturgis during the Sturgis Motorcycle Rally. Russ Brown Motorcycle Attorneys® and BAM will have booths set up downtown Sturgis and at the Legendary Buffalo Chip. Come by and grab any of our free biker stickers and learn more about why you should carry BAM in your wallet. There is a lot to check out in Sturgis: from the great concerts at the Buffalo Chip to the scenic rides of the Black Hills.
Looking for the best South Dakota Motorcycle
Attorneys near you?

We Ride – We Care – We Win!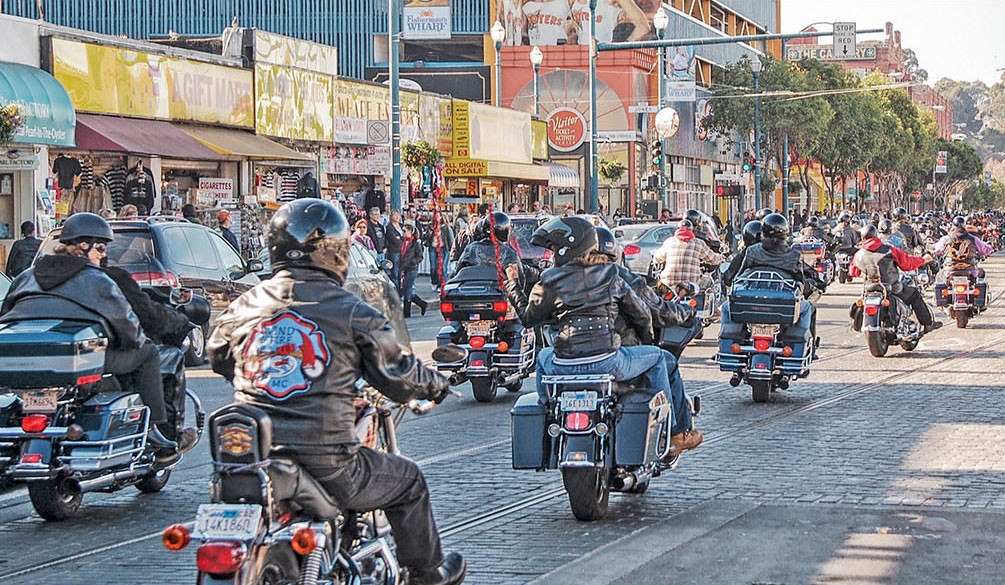 Event Description in California, all riders must wear a D.O.T. certified helmet. The state also requires motorcyclists to have EPA-compliant exhaust systems on their model year 2011 and newer motorcycles.
California motorcycle applicants under 21 years of age are required to complete a Basic Rider Cource before they receive a motorcycle instruction permit. Motorcycle applicants 21 years of age and older are encouraged.