Your Minnesota Motorcycle Accident Lawyers
Contact Us Today For a Free Consultation!
Motorcycle Accident Attorneys: Russ Brown Motorcycle Attorneys® have been fighting for motorcyclists' rights for decades. We are experts in motorcycle accidents and have carefully chosen local, independent counsel across the country to help guide your claim with free legal advice, even if you do not need an attorney. This can maximize your recovery. If you want justice and compensation for your injury, pain and suffering, call today for your free consultation.
Your Minnesota Motorcycle Accident Lawyers
Russ Brown Motorcycle Attorneys® are bikers–lawyers who ride–and our knowledge of motorcycle accident law is staggering. The sheer volume of cases that we have successfully handled for injured riders means extra clout with insurance companies far beyond our competition, so the true value of your claim can be realized. We have the practical know-how to properly assess the dynamics of your bike accident and can overcome a bad police report or negative witness' account of your collision.  Further, as fellow biking enthusiasts, we can emphasize and know biker law extensively. A true motorcycle personal injury attorney will battle for you even if the facts of your accident are not a "slam dunk".  This is why our handpicked motorcycle accident lawyer near you in Minnesota can take on cases that other attorneys won't. Our Minnesota motorcycle accident attorneys are local motorcycle injury lawyers with experience, expert knowledge of local motorcycle law & accepted riding practices—as well as a desire for justice.  You deserve a motorcycle lawyer in Minnesota who will truly fight for you and your motorcycle accident claim; just call 1-800-4BIKERS.
We have won hundreds of millions in motorcycle accident collisions for lost wages, pain and suffering and more.  Who better to handle your bike accident claim and seek the compensation you deserve than fellow riders? Your local Minnesota motorcycle accident attorney is further backed by BAM's cooperative team of some of the best motorcycle lawyers in the nation.  This is not a pay-to-join referral network.  When and if your case strategy would benefit from another expert (confidential) legal opinion, egos aside, your local BAM motorcycle injury lawyer can work together with other top professionals and tap Russ Brown & Chuck Koro's expertise to get you what you deserve.  This collaborative structure ensures that the needs of the client always come first.  Call 1-800-4-BIKERS Russ Brown Motorcycle Attorneys® today for your free consultation.
Filing a motorcycle accident claim merits the guidance of an experienced motorcycle accident attorney. BAM's motorcycle personal injury lawyers will put motorcycle laws to work for you. Our attorneys have compassion, skill and the track record needed to maximize your recovery for pain and suffering, lost wages, and more.  Very few of the attorneys claiming to be motorcycle personal injury lawyers in Minnesota have much experience with motorcycle cases due in part to the limited riding season.  It is crucial to speak to motorcycle injury accident attorneys with extensive case experience to fully understand your options before deciding how you will proceed.
Can my local Russ Brown motorcycle accident attorney tell me if I have a case?
YES, WE CAN AND WILL DURING YOUR FREE CONSULTATION!  We will give you the straight facts and the information necessary to decide if your situation warrants legal representation.  You will speak directly with the BAM motorcycle injury attorney local to you about Minnesota motorcycle law and how it relates to you.  Even if you do not need a lawyer, we can help you to be better prepared and know what to expect from the claims process.  Call 1-800-4BIKERS for your free legal advice.
The North Star State's 12,000 lakes and 84,000+ square miles of incredible country are paradise for motorcyclists at least five months out of the year. There are more than 215,000 registered motorcycles on the road in Minnesota, and BAM's personal injury lawyers have helped many of their operators recover for lost wages and injuries sustained from a severe accident. As fellow riders, Russ brown, Chuck Koro, and the rest of our motorcycle personal injury attorneys approach each accident claim with a unique perspective and a complete understanding of motorcycle law. Consult with our Minnesota motorcycle accident lawyers today.
Minnesota Motorcycle Laws
Daytime Use of Headlight Required by state law; 974, 5(i)Modulating headlight permitted per Code of Federal Regulations, Title 49, 571.108
Eye Protection Required by law; 974, 4(a)
Handlebar Height No Restrictions
Helmet Speakers are only allowed in the form of a single earphone;471
Lane splitting is not authorized; 974, 5(e)
Sound Levels are restricted to no more than Max A-weighted sound level ranges from 80-90dBA measured at 50 feet; Rule 7030.1050
Motorcycles are permitted to operate two abreast in same lane Yes; 974, 5(e)
Passenger Seat and Footrest is required if carrying a passenger; 974, 3; 169.974, 5(a)
Safety Helmets are required by law under age 18, required for instructional permit holders; Minnesota Statutes Section 169.974, subsection 4
Turn Signals are not required
Looking for the best Minnesota Motorcycle
Attorneys near you?

We Ride – We Care – We Win!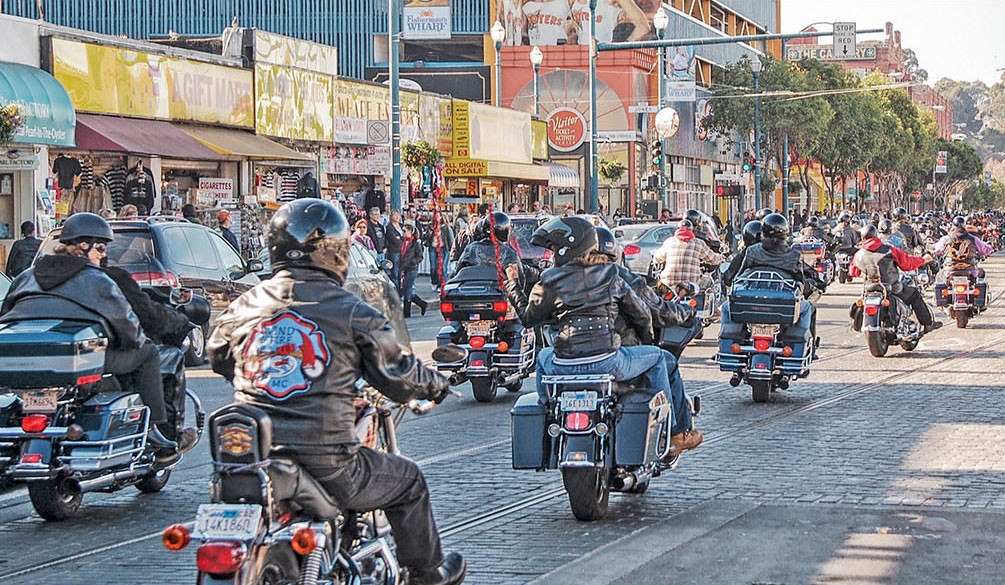 Event Description in California, all riders must wear a D.O.T. certified helmet. The state also requires motorcyclists to have EPA-compliant exhaust systems on their model year 2011 and newer motorcycles.
California motorcycle applicants under 21 years of age are required to complete a Basic Rider Cource before they receive a motorcycle instruction permit. Motorcycle applicants 21 years of age and older are encouraged.