Your New York Motorcycle Accident Attorney
Contact Us Today For a Free Consultation!
Motorcycle Accident Attorneys: Russ Brown Motorcycle Attorneys® have been fighting for motorcyclists' rights for decades. We are experts in motorcycle accidents and have carefully chosen local, independent counsel across the country to help guide your claim with free legal advice, even if you do not need an attorney. This can maximize your recovery. If you want justice and compensation for your injury, pain and suffering, call today for your free consultation.
Your New York Motorcycle Accident Lawyers
Our New York motorcycle accident attorneys are highly qualified in motorcycle accident law, and can help you file an accident claim to recover for pain and suffering, lost wages, repair bills, and more. Without a professional advocate many motorcycle accident victims settle for far less than they are rightfully due or accept at face value some insurance company "legalese" that may not even be true.  Let our motorcycle accident lawyers help you win your case. We share your passion for motorcycling and are The Original Attorneys Who Ride®. Russ Brown & Chuck Koro's extraordinary team of motorcycle personal injury lawyers have been protecting and serving the nation's riders since 1975.  Every one of our knowledgeable personal injury lawyers has been handpicked for skill and success level.  Each attorney has expertise in motorcycle accidents and is dedicated to provide free legal advice to help you regardless of the facts of your case.  If you've been injured in a motorcycle crash, you need an expert.  Call 1-800-4BIKERS to speak with a highly qualified BAM attorney, well-versed in biker law.
There are lawyers who choose to master international law, corporate law and those who represent the underdog. Russ Brown Motorcycle Attorneys® focus on bike accidents, personal injury law only. We know police reports can go against the rider when it was not their fault. We know that to avoid an accident, motorcyclists cannot simply put on the brakes but may have to lay their bike down. Despite the bad rap that lawyers get, a tough litigator in your corner can be the Ace in your personal poker run, only your case is going to hinge on skill & experience, not luck. Consulting with a BAM attorney if you have been injured in a motorcycle accident is your best bet for winning what you deserve.
New York boasts an incredible array of choices for riding.  Picturesque rolling hills and historic country roads, covered bridges and lighthouse tours, river and lakeside sweepers, majestic mountain runs, the congested urban jungle of the City that never sleeps—New York has it all.  With close to 350,000 motorcycles on its roads, the Empire State is the 6th largest for motorcycle registrations. Most of those bikes' riders take great care to ride safely, so it is not surprising that statistics show 2 out of 3 motorcycle accidents are the fault of a car not yielding the right of way, primarily in the daytime when there is no issue with adequate light. Thankfully, across the US, biker fatalities have declined slightly from previous years; however, it is still estimated that thousands will be badly injured.  At Russ Brown Motorcycle Attorneys®, we have handled a significant number of those accidents and repeatedly seen motorcyclists' rights ignored and trampled by insurance companies or biased witnesses.  Our attorneys are specialists in motorcycle law and are in the trenches daily so we have the experience necessary to combat insurance trickery, negative police reports, etc.  Call us at 1-800-4BIKERS and let us help you win the fight.
New York Motorcycle Laws
Safety Helmet Required by Law State
Lane Splitting is not authorized
Daytime Use of Headlight is required by law

Modulating headlight permitted per Code of Federal Regulations, Title 49, 571.108

Eye Protection is required by law
Handle bars and/or grips cannot be more than the height of the motorcycle operator's shoulders.
Helmet Speakers are allowed only in a single earphone only
Maximum allowable sound level is A-Weighted Sound Levels at Speed: 35 mph or less, 82 dB(A); over 35 mph, 86 dB(A), measured at, or adjusted to, a distance of fifty feet from the center of the lane in which the motorcycle is traveling.
One mirror is required by law
Motorcycles are permitted to operate two abreast in same lane
A muffler is required however, no straight pipes, no removal of baffles, no modification of exhaust system that increases noise beyond exhaust system originally installed is allowed.
No passenger age restriction
Passenger Seat and Footrest Required if carrying a passenger
Periodic Safety Inspection Required by law
Insurance Requirements Compulsory Liability (Minimum Limits)(25/50/10) – Minimum limits where death results are 50/100.
Turn Signals are required if motorcycle was manufactured in 1985 or after 
*ALWAYS CHECK YOUR LOCAL DMV PAGE FOR THE MOST UP TO DATE MOTORCYCLE SAFETY LAWS*
Looking for the best New York Motorcycle
Attorneys near you?


New York City
14 Wall Street
New York, NY 10005
Brooklyn
751 Flushing Avenue
Brooklyn, NY 11206
Brooklyn
362 Knickerbocker Avenue
Brooklyn, NY 11237
New City
151 North Main Street
New City, NY 10956
Tarrytown
150 White Plains Road
Tarrytown, NY 10591
We Ride – We Care – We Win!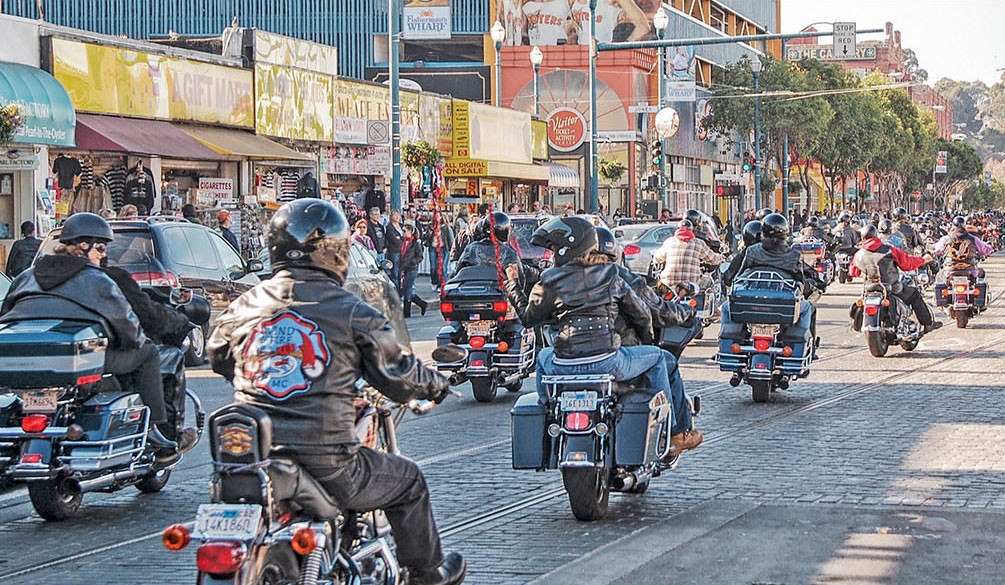 Event Description in California, all riders must wear a D.O.T. certified helmet. The state also requires motorcyclists to have EPA-compliant exhaust systems on their model year 2011 and newer motorcycles.
California motorcycle applicants under 21 years of age are required to complete a Basic Rider Cource before they receive a motorcycle instruction permit. Motorcycle applicants 21 years of age and older are encouraged.