Your New Jersey Motorcycle Accident Lawyers
Contact Us Today For a Free Consultation!
Motorcycle Accident Attorneys: Russ Brown Motorcycle Attorneys® have been fighting for motorcyclists' rights for decades. We are experts in motorcycle accidents and have carefully chosen local, independent counsel across the country to help guide your claim with free legal advice, even if you do not need an attorney. This can maximize your recovery. If you want justice and compensation for your injury, pain and suffering, call today for your free consultation.
Your New Jersey Motorcycle Accident Lawyers
Russ Brown Motorcycle Attorneys® started BAM to advocate for bikers and protect motorcyclists all over the country.  Our New Jersey motorcycle accident lawyers have handled thousands of accident claims and won millions in settlements for riders' lost wages, pain and suffering, and repair bills. BAM Founders, renowned motorcycle lawyers Russ Brown and Chuck Koro, were disturbed at how frequently bikers were getting the shaft, and decided to do something about it. BAM provides motorcycle law experts for their fellow bikers in every state.  We have handpicked every motorcycle accident attorney in our cooperative, always local to you, for their experience and record of success—these spots are not for sale.  Who better to trust with your case than highly acclaimed lawyers who ride? We have the resources and backbone to handle the most serious motorcycle accident claims as well as take the time to give you practical FREE legal advice.  Even if your situation is muddied by a bad police report or coverage problem, we may be able to help.  We Ride – We Care – We WIN.
As experts in biker law, our New Jersey injury accident lawyers will fight for you.  Our years of practice, heavy involvement in the motorcycle community and access to most renowned legal minds in the field make Russ Brown Motorcycle Attorneys® THE WINNING TEAM. Call 1-800-4-BIKERS to align yourself with a top-notch motorcycle lawyer today.
New Jersey may be tiny but when it comes to motorcycling, the Garden State is huge. Over 163,000 motorcycles are registered here and when you add in visiting bikers, New Jersey becomes one of the more popular riding states in the country. Russ Brown's BAM program has volunteer members peppering the entire NJ road system, so that anyone on 2 wheels with a BAM card in their pocket has access to roadside assistance and free legal advice. If you are riding solo or outside of your support area and unlucky enough to need emergency help, give us a call at 1-800-4BIKERS and we'll go into our database to get you some. In the unlikely event that you are a victim of a motorcycle crash, the smartest move is to call an experienced professional before you inadvertently make a mistake. If properly prepared for what to expect, you very well may not need a lawyer and can navigate the accident claims process by yourself. If however, it is to your advantage to have representation, then the sooner you involve an experienced BAM motorcycle attorney with clout, the better. We are here to help you and make sure you receive the level of compensation you deserve. Contact us by chat or call 1-800-4BIKERS today.
New Jersey Motorcycle Laws
Daytime Use of Headlight Modulating headlight permitted per Code of Federal Regulations, Title 49, 571.108
Eye Protection Not required if the motorcycle is equipped with a wind screen meeting specifications established by the director, or if a three-wheeled motorcycle meeting certain requirements. N.J. Stat. §39:3-76.7, §39:3-76.8, §39:3-76.9
Handlebar height is not to be higher than below shoulder height
Lane Splitting is not authorized
Turn Signals are not required
Safety helmets are required by law—must have reflector material on helmet
One mirror required by law
Motorcycles operating two abreast in same lane
No passenger age restriction
Passenger footrest and seat required if carrying a passenger
State Insurance Requirements Compulsory Liability (Minimum Limits)(15/30/5)
*ALWAYS CHECK YOUR LOCAL DMV PAGE FOR THE MOST UP TO DATE MOTORCYCLE SAFETY LAWS*
Looking for the best New Jersey Motorcycle
Attorneys near you?

Newark
17 Academy Street
Newark, NJ 07102
We Ride – We Care – We Win!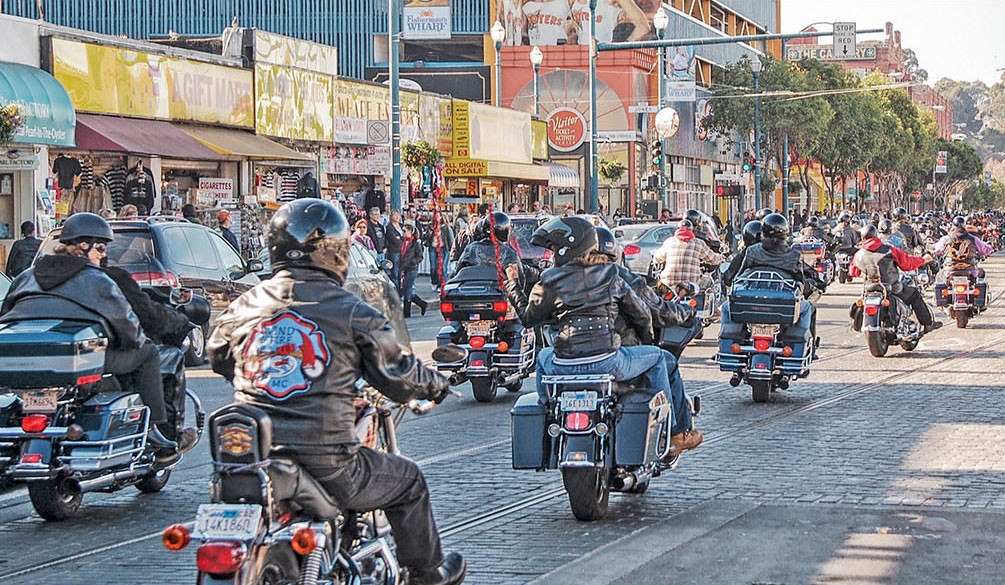 Event Description in California, all riders must wear a D.O.T. certified helmet. The state also requires motorcyclists to have EPA-compliant exhaust systems on their model year 2011 and newer motorcycles.
California motorcycle applicants under 21 years of age are required to complete a Basic Rider Cource before they receive a motorcycle instruction permit. Motorcycle applicants 21 years of age and older are encouraged.